Coal Shortage in India
The Indian Express and Business Line
GS 3: Infrastructure: Energy
Context:
Thermal power plants in India are facing a severe coal shortage.
Coal stocks having come down to an average of 4 days of fuel across an increasing number of thermal stations.
Reasons:
Increased power demand as the economy recovers from COVID-19 coupled with supply issues. India consumed 124 billion units of power in August 2021 compared to 106 billion units of power in August 2019.
Lower than normal stock accumulation by thermal power plants in the April-June period.
Continuous rainfall in coal bearing areas in August and September caused fewer dispatches of coal from coal mines.
Fall in imports due to high international prices.
Non-payments of coal dues by Maharashtra, Rajasthan, Tamil Nadu, Uttar Pradesh and Madhya Pradesh.
Impact:
The electricity shortages could delay India's economic reopening.
It might lead to downscaling of business productions.
India's population and under developed energy infrastructure will mean the power crisis could hit long and hard.
Measures taken by government:
The Power Ministry has constituted a Core Management Team to monitor and manage the fuel on daily basis to improve supplies to power plants.
Coal India, the state-owned miner, claims that it has ramped up supplies to thermal power plants by nearly 12% annually.
The government is pressing thermal plants with captive coal mines to boost their coal output to meet their own demand.
The Power Ministry is trying to expedite the start of production from a number of mines that already have all requisite clearances.
The government has also boosted the number of rakes of coal being transported to thermal power plants daily.
Way Forward:
Advance preparation and ensuring sufficient stocks ahead of monsoons is a well-known strategy.
State run Coal India and NTPC Ltd. can work together to raise the output from mines.
India must increase its imports despite the financial cost.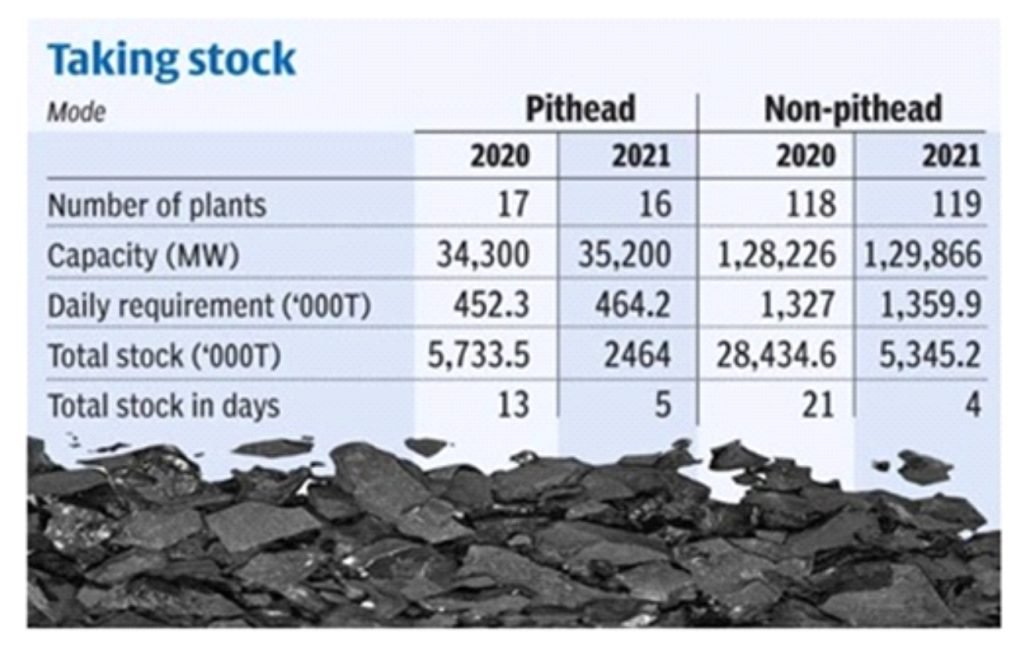 Antimalarial Vaccine
Indian Express
GS 2: Health and Family welfare
Context:
RTS,S/ASO1 (RTS.S), trade name Mosquirix, was recently endorsed by the WHO.
About:
The long-awaited malaria vaccine for children is a breakthrough for science, child health and malaria control.

Using this vaccine on top of existing tools to prevent malaria could save tens of thousands of young lives each year.

The WHO is recommending the use of the RTS,S/AS01 (RTS,S) malaria vaccine among children in sub-Saharan Africa and in other regions with moderate to high P. falciparum malaria transmission.
Rationale:
The WHO's recommendation was based on the results from an ongoing pilot programme in Ghana, Kenya, and Malawi.
Malaria remains a primary cause of childhood illness and death in sub-Saharan Africa.
Challenges:
The vaccine does significantly reduce life-threatening severe malaria.
Vaccination against malaria does not replace or reduce the need for other measures, including bed nets [against mosquitoes].
Scientists cite a variety of reasons for the failure to develop a malaria vaccine, the foremost being the complexity of the life-cycle of the malaria causing parasite, a part of which is spent in the human host.
These parasites are also able to hide inside human cells to avoid being recognised by the immune system, creating further challenges.
Common human malaria-causing parasite, P. falciparum, is not a rodent pathogen leading to difficulty in R&D.
The lack of funding and interest in developing a malaria vaccine. Because malaria disproportionately affects LMIC (low and middle-income countries) lacking the robust health infrastructure, the vaccine manufacturers have little incentive for malaria vaccines.
Other scientists have also mentioned that research for malaria vaccines never received the same kind of attention as, say, HIV/AIDS.
State of Climate Services 2021: WMO
Down to Earth
GS 3: Environment and Conservation
Context:
Recently, the World Meteorological Organization (WMO) released a report, State of Climate Services 2021.
About Report:
It is a collaboration between the WMO, international organisations, development agencies and scientific institutions, estimates that the number of people with inadequate access to water will top 5 billion by 2050 versus 3.6 billion in 2018.
This 2021 edition of the WMO State of Climate Services report focuses on water, an issue that is of great significance to communities in every corner of the globe, and that affects every economic sector.
Findings: 
In 2018, some 3.6 billion people globally had inadequate access to water for one month per year, which is expected to surpass five billion by 2050.
Terrestrial water storage (TWS) dropped at a rate of 1 cm per year in 20 years (2002-2021).

The biggest losses have occurred in Antarctica and Greenland.

More than two billion people live in water-stressed conditions and lack access to safe drinking water and sanitation.
Overall, water-related hazards have been increasing in frequency for the past two decades.
Flood-related disasters rose by 134% when compared with the two previous decades.

Most deaths and economic losses occurred in Asia, where warning systems require strengthening.

The number and duration of droughts also increased by 29% over the past two decades.

Most deaths were in Africa, again indicating the need for stronger warning systems.
Indian scenario:
In India, per capita, water availability is reducing due to an increase in population.
The average annual per capita water availability has been consistently decreasing.

It reduced to 1,545 cubic metres in 2011, from 1,816 cubic metres in 2001.

India has recorded the highest loss in terrestrial water storage if the loss of water storage in Antarctica and Greenland is excluded.

India is, therefore, the 'topmost hotspot of TWS loss'.
India's Newest Tiger Reserve
The Hindu
Prelims Fact
Context:
The National Tiger Conservation Authority (NTCA) approved the Chhattisgarh government's proposal to declare the combined areas of the Guru Ghasidas National Park and Tamor Pingla Wildlife Sanctuary as a Tiger Reserve.
About:
The new Reserve is in the northern part of the state, bordering Madhya Pradesh and Jharkhand.
This will be the fourth Tiger Reserve in Chhattisgarh, after the Udanti-Sitanadi, Achanakmar, and Indravati Reserves.
Wildlife experts and activists in the state believe that turning Guru Ghasidas into a Tiger Reserve is important because it connects Jharkhand and Madhya Pradesh and provides a corridor for tigers to move between the Bandhavgarh and Palamau Tiger Reserves.
Guru Ghasidas National Park was the last known habitat of the Asiatic Cheetah in the country.
Originally, part of the Sanjay Dubri National Park, Guru Ghasidas Park was created as a separate entity in Chhattisgarh's Sarguja region after the formation of the state in 2001.
Earlier the state government moved to obtain approval for the Bhoramdeo Wildlife Sanctuary in the centre of the state as a Tiger Reserve.
Bhoramdeo connects the Indravati Tiger Reserve in Chhattisgarh with the Kanha Tiger Reserve in Madhya Pradesh.
Textile Parks
The Hindu
Prelims Fact
Context:
The Union Cabinet approved the setting up of seven Mega Integrated Textile Region and Apparel (PM MITRA) Parks at an outlay of ₹4,445 crore.
About:
The mega parks scheme will include brownfield and greenfield projects.
The parks would be developed by a Special Purpose Vehicle (SPV) owned by the Central and State governments and would get two kinds of support.
Development Capital Support, aimed at helping develop infrastructure, would fund 30% of the project cost with a cap of ₹500 crores for greenfield projects and ₹200 crores for brownfield projects.
A separate Competitiveness Incentive Support would be limited to ₹300 crores per park.
The parks are expected to generate 7 lakh direct jobs and provide indirect jobs to almost 14 lakh people.
Main Feature

To create a world class infrastructure with plug and play facilities to enable create global champions in exports
7 Textile Parks will be established over 3 years

Aims at making Textile Industry:

Globally competitive
Attract large investments
Boost employment generation & exports

Interested States

As many as 10 States including Tamil Nadu, Telangana and Gujarat had already shown interest.
States offering the cheapest land (contiguous and encumbrance-free land of minimum 1,000 acres) and facilities such as adequate electricity and water would be selected through a transparent challenge route.

The SPV would select a Master Developer to set up and maintain the park for a specified period.
Of the park's area, 50% would be earmarked for manufacturing activity, 20% for utilities, and 10% set aside for commercial development.
Benefits
The parks are crucial to attract Foreign Direct Investment (FDI).
From April 2000 to September 2020, India's textile sector received Rs 20,468.62 crore of FDI, which is just 0.69% of the total FDI inflows during the period.
The parks would comprise four categories — units investing ₹300 crore or more, units investing ₹100-300 crore, investors of less than ₹100 crore and tenant units.

States offering the cheapest land (contiguous and encumbrance-free land of minimum 1,000 acres) and facilities such as adequate electricity and water would be selected through a transparent challenge route.