Current Affairs (1st June 2021)
India's GDP fall
Context:
Recently, the Indian government released its latest estimates of economic growth for the last financial year that ended in March 2021. India's Gross Domestic Product (GDP) contracted by 7.3% in 2020-21.
Between the early 1990s until the pandemic hit the country, India grew at an average of around 7% every year.
Two ways to view this contraction in GDP:
India is facing a once-in-a-century COVID-19 pandemic. The other way would be to look at this contraction in the context of what has been happening to the Indian economy over the last decade — and more precisely over the last seven years.
Seen in this context, the latest GDP data suggests that it is not an outlier. Instead, if one looked at some of the most important variables in the data, India's economy had been steadily worsening during the current regime even before the Covid-19 pandemic.
Fundamentals of the economy refers to a bunch of economy-wide variables that provide the most robust measure of an economy's health.
During periods of economic upheaval, political leaders reassure the public that the "fundamentals of the economy are sound".
 Gross Domestic Product
GDP growth rate has been a point of growing weakness for the last 5 of these 7 years.
According to the Reserve Bank of India or RBI's Annual Report for FY21, the following chart maps the turning points in India's growth story.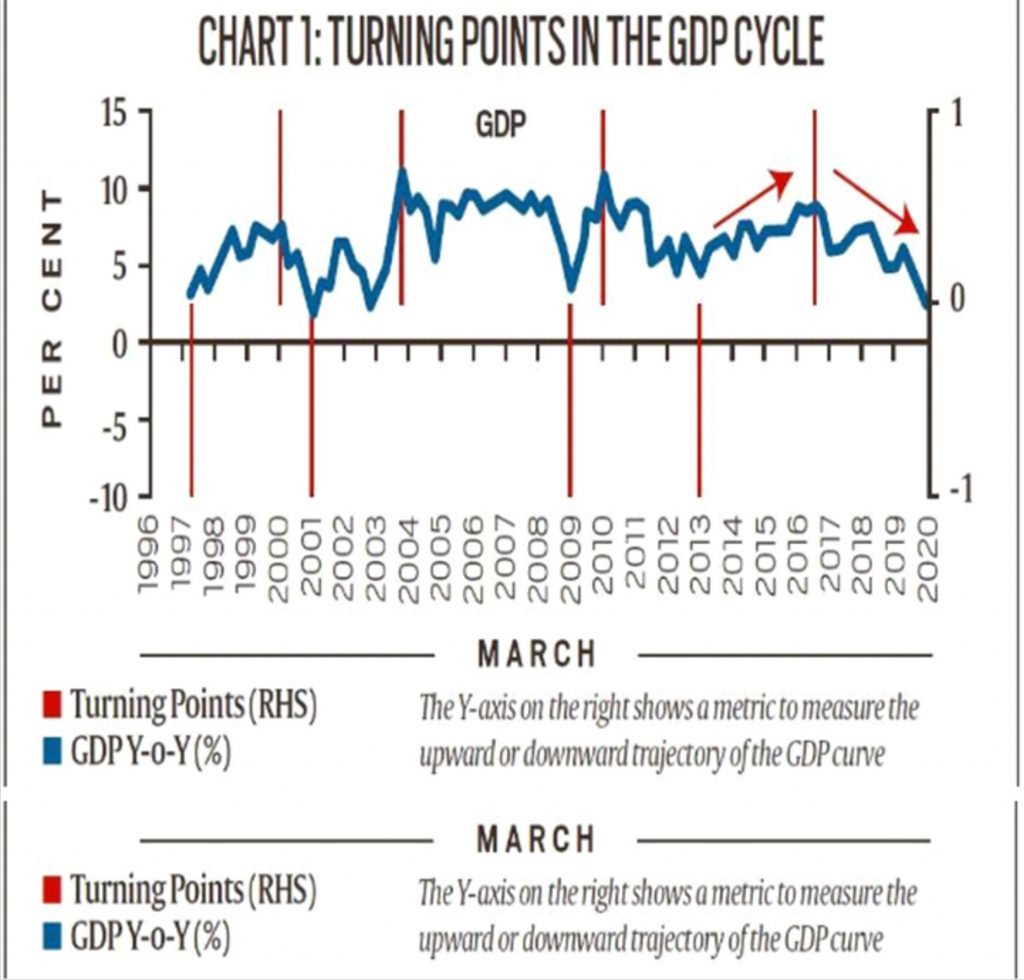 After the decline in the wake of the Global Financial Crisis, the Indian economy started its recovery in March 2013 — more than a year before the present government took charge.
But more importantly, this recovery turned into a secular deceleration of growth since the third quarter (October to December) of 2016-17.
While RBI does not state it, the government's decision to demonetise 86% of India's currency overnightin 2016 is seen by many experts as the trigger that set India's growth into a downward spiral.
As the ripples of demonetisation and a poorly designed and hastily implemented Goods and Services Tax (GST) spread through an economy that was already struggling with massive bad loans in the banking system, the GDP growth rate steadily fell from over 8% in FY17 to about 4% in FY20, just before Covid-19 hit the country.
In January 2020, as the GDP growth fell to a 42-year low (in terms of nominal GDP), PM expressed optimism, stating: "The strong absorbent capacity of the Indian economy shows the strength of basic fundamentals of the Indian economy and its capacity to bounce back".
As an analysis of key variables suggests, the fundamentals of the Indian economy were already quite weak even in January last year — well before the pandemic.
For example, if one looks at the recent past (Chart 2), India's GDP growth pattern resembled an "inverted V" even before Covid-19 hit the economy.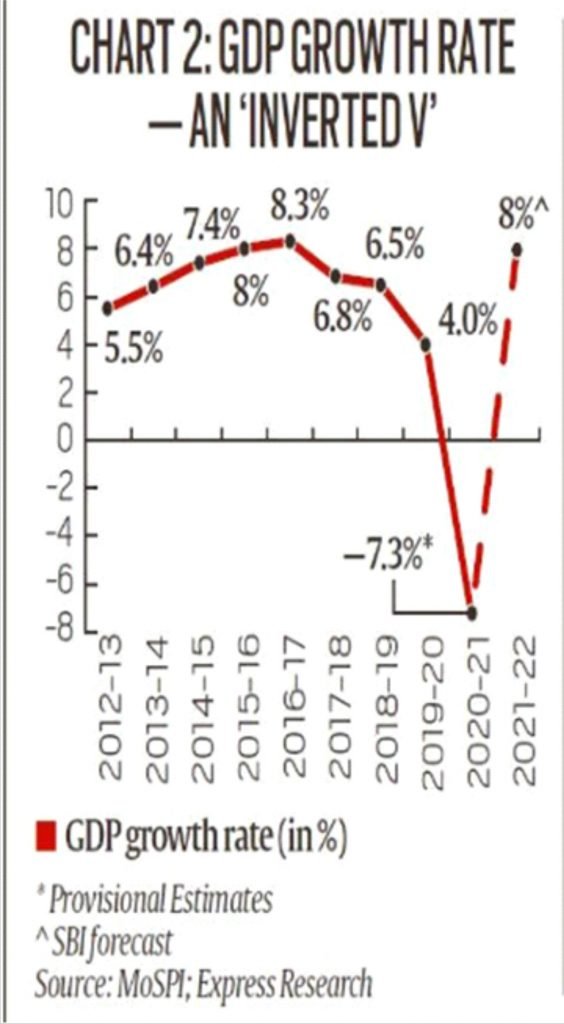 GDP per capita
GDP per capita is total GDP divided by the total population.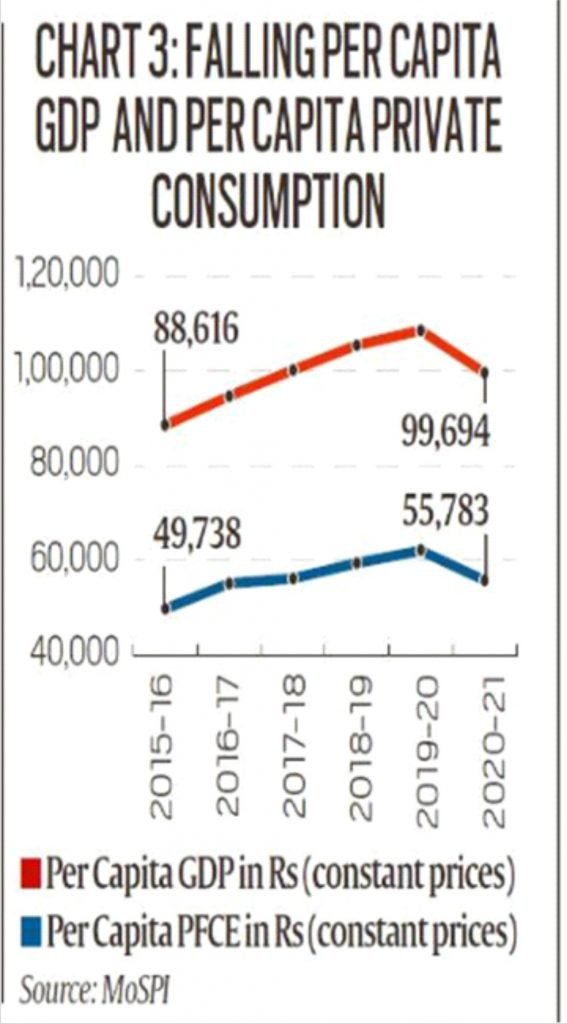 Red curve in Chart 3 shows at a level of Rs 99,700, India's GDP per capita is now wha­­­­­t it used to be in 2016-17 — the year when the slide started.
As a result, India has been losing out to other countries. A case in point is how even Bangladesh has overtaken India in per-capita-GDP terms.
 Unemployment rate
India's unemployment rate, according to the government's own surveys, was at a 45-year high in 2017-18 — the year after demonetisation and the one that saw the introduction of GST.
Between 2012 and 2018, the total number of employed people fell by 9 million — the first such instance of total employment declining in independent India's history.
As against the norm of an unemployment rate of 2%-3%, India started routinely witnessing unemployment rates close to 6%-7% in the years leading up to Covid-19. The pandemic, of course, made matters considerably worse.
This is happening even when the labour force participation rate — which maps the proportion of people who even look for a job — has been falling.
With weak growth prospects, unemployment is likely to be the biggest headache for the government in the remainder of its current term.
 Inflation rate
In the first three years, the sudden and sharp fall in oil prices allowed the government to completely tame the high retail inflation in the country, while on the other, it allowed the government to collect additional taxes on fuel.
But since the last quarter of 2019, India has been facing persistently high retail inflation. Even the demand destruction due to lockdowns induced by Covid-19 in 2020 could not extinguish the inflationary surge.
India was one of few countries — among comparable advanced and emerging market economies — that has witnessed inflation trending consistently above or near the RBI's threshold since late 2019.
Going forward, inflation is a big worry for India. It is for this reason that the RBI is expected to avoid cutting interest rates (despite faltering growth) in its upcoming credit policy review on June 4.
 Fiscal deficit
The fiscal deficit is essentially a marker of the health of government finances and tracks the amount of money that a government has to borrow from the market to meet its expenses.
There are two downsides of excessive borrowing. One, government borrowings reduce the investible funds available for the private businesses to borrow (this is called "crowding out the private sector"); this also drives up the price (that is, the interest rate) for such loans.
Two, additional borrowings increase the overall debt that the government has to repay. Higher debt levels imply a higher proportion of government taxes going to pay back past loans. For the same reason, higher levels of debt also imply a higher level of taxes.
On paper, India's fiscal deficit levels were just a tad more than the norms set, but even before Covid-19, the fiscal deficit was far more than what the government publicly stated.
In the Union Budget for the current financial year, the government conceded that it had been underreporting the fiscal deficit by almost 2% of India's GDP.
 Rupee vs dollar
A US dollar was worth Rs 59 when the government took charge in 2014. Seven years later, it is closer to Rs 73. The relative weakness of the rupee reflects the reduced purchasing power of the Indian currency.
These were some, not all, of the metrics that often qualify as the fundamentals of an economy.
 What's the outlook on growth?
The biggest engine for growth in India is the expenditure by common people in their private capacity. This "demand" for goods accounts for 55% of all GDP.
In Chart 3, the blue curve shows the per capita level of this private consumption expenditure, which has fallen to levels last seen in 2016-17.
This means if the government does not help, India's GDP may not revert to the pre-Covid trajectory for several years to come. It is for this reason that the latest GDP should not be viewed as an outlier.
Pesticides cause of poisoning
Context:
The prevalence of pesticide poisoning in the adult population was 65 per cent and 22 per cent in children, according to the study published in the British Medical Journal(BMJ). It was titled Toxicoepidemiology of poisoning exhibited in Indian population from 2010 to 2020: A systematic review and meta-analysis.
About:
Pesticides are the leading cause of poisoning in India, with two in every three cases of poisoning happening because of pesticide consumption either intentionally or unintentionally.
The research involved analysing 134 research studies done between January 2010 and May 2020, including more than 50,000 participants.
It revealed that pesticides were the main case of poisoning, with an overall prevalence of 63 percent due to widespread use of pesticides for agricultural and household activities.
Other types of poisoning included corrosives, venoms, drugs and miscellaneous agents. The second most common cause of poisoning was miscellaneous agents, followed by drugs, venoms and corrosives.
An analysis of the region-wide distribution of the prevalence of poisoning showed that it was the highest in north India at 79 per cent (more than three-fourths of the total cases of poisoning), followed by south India (65.9 per cent), central India (59.2 per cent), west India (53.1 per cent), north east India (46.9 per cent) and east India (38.5 per cent).
The reasons for pesticide poisoning were the co-existence of poverty and agricultural farming and thus, the easy availability of pesticides.
The research has once again brought to fore the issues regarding the unabated use of pesticides in India and how they continue to be a great threat to human health.
Thousands of farmers and farm labourers die every year due to unsafe use of hazardous pesticides.
Deaths of farmers and the public across Maharashtra, Kerala, Punjab, Karnataka, and Bihar among other states in the last few years due to pesticide consumption have highlighted the need to regulate their use.
Easy access to pesticides has also led its consumption becoming the leading cause of suicides worldwide.
The World Health Organization and its member countries initiated a programme of safe access of pesticides, which has resulted in a decrease in the prevalence of fatal poisoning by 10 per cent across the world.
However, pesticides remain the leading cause of poisoning in south Asian countries including India and in south east Asia and China.
The strict restriction of highly lethal pesticides by legal mechanisms or policy actions drastically reduced deaths.
Current Affairs (2nd June 2021)
Circular on cryptocurrency
Context:
Recently, some leading banks cautioned people against dealing in cryptocurrencies. The Reserve Bank of India (RBI) recently said banks and other regulated entities cannot cite its April 2018 order on virtual currencies (VCs) as it has been set aside by the Supreme Court of India in 2020.
What did the RBI say and what was the trigger?
In view of the order of the Supreme Court, the circular is no longer valid from the date of the Supreme Court judgement, and therefore cannot be cited or quoted from.
The RBI clarification came after State Bank of India and HDFC Bank cautioned their customers against dealing in virtual currencies such as Bitcoin citing the April 2018 order of the RBI.
Banks also warned customers that failure to adhere to the advisory may lead to cancellation or suspension of their cards.
The RBI has no option but to allow it after the Supreme Court lifted the banking ban last year. So, the RBI intervened and asked banks to stop being notorious.
Does it clarify the policy position for cryptocurrency holders?
The clarification from the RBI, which is developing its own virtual currency, is expected to give some relief to customers who have invested in cryptocurrencies.
Many Indians have invested in cryptocurrencies like Bitcoin and Ethereum, the RBI move will be a big respite for them and their money.
What are banks expected to do now?
Banks, as well as other entities, may continue to carry out customer due diligence processes in line with regulations governing standards for Know Your Customer (KYC), Anti-Money Laundering (AML), Combating of Financing of Terrorism (CFT) and obligations of regulated entities under Prevention of Money Laundering Act, (PMLA), 2002 in addition to ensuring compliance with relevant provisions under Foreign Exchange Management Act (FEMA) for overseas remittances.
In other words, banks can't take action against investors in virtual currencies following the court and RBI directives.
What's the RBI's position?
The RBI's 2018 position was more restrictive. In view of the associated risks, it has been decided that, with immediate effect, entities regulated by the Reserve Bank shall not deal in VCs or provide services for facilitating any person or entity in dealing with or settling VCs.
Such services include maintaining accounts, registering, trading, settling, clearing, giving loans against virtual tokens, accepting them as collateral, opening accounts of exchanges dealing with them and transfer / receipt of money in accounts relating to purchase or sale of VCs.
Regulated entities which already provide such services should exit the relationship within three months from the date of the circular.
Conclusion:
However, the RBI which is against other virtual cryptocurrencies has warned people against such currencies several times in the past.
RBI has indicated it's "very much in the game" and getting ready to launch its own digital currency. "Central bank digital currency is a work in progress.
Role of Rural India
Context:
The economy saw its worst-ever contraction in 2020-21, but the farm sector grew by 3.6%. In the second year of the Covid-19 pandemic, however, farmers face new challenges and uncertainties.
About:
2020-21 saw the Indian economy register its worst-ever contraction since Independence and the first since 1979-80.
The National Statistical Office has, in its Provisional Estimates released recently, pegged the growth in real gross value added at basic prices (previously known as GDP at factor cost) for 2020-21 at minus 6.2%.
This time is that the farm sector (agriculture, forestry & fishing) has grown by 3.6%. There have been four instances of negative GDP growth earlier: 1979-80, 1972-73, 1965-66 and 1957-58.
All four were drought years, with agricultural de-growth surpassing that of overall GDP in each of them. 2020-21 has been different.
There has been record economic contraction, yet no drought; the farm sector grew by 3.6%.
Two main reasons why agriculture did not suffer the fate of the rest of the economy last year:
Monsoon:
The rains were good not just in the main monsoon, but also the post-monsoon (October-December), winter (January-February) and pre-monsoon (March-May) seasons of 2019 and 2020.
It led to the filling of reservoirs and recharging of groundwater tables and aquifers, unlike after the deficient monsoons of 2014 and 2015 and the near-deficient one of 2018. 2019-20 and 2020-21 produced back-to-back bumper harvests.
Exemption from the nationwide lockdown that followed the first wave of COVID-19:
Last year, PDS ration shops and other stores selling food, groceries, fruits & vegetables, milk, meat and fish, animal fodder, seeds, and pesticides were spared. Later, government extendedthe lifting of curbs to fertiliser outlets, all field operations by farmers and farm workers, intra- and inter-state movement of agricultural machinery, sale of produce in wholesale mandisand procurement by government agencies.
The conscious policy call taken to permit agriculture-related activities andthe inherent resilience and adaptability of rural economic actors — meant that the farm sector was relatively insulated from lockdown-imposed supply-side
Farmers made sure they did not waste a good monsoon, finding ways to even mobilize harvesting and planting labour during peak lockdown.
Challenges faced by agriculture:
The problems agriculture encountered due to the lockdown had more to do with the demand side.
The closure of hotels, restaurants, roadside eateries, sweetmeat shops, hostels, and canteens — and no wedding receptions and other public functions — resulted in a collapse of out-of-home consumption.
This was demand destruction not from rising prices — "movement along the demand curve". Instead, it was from forced consumption reduction, translating into lower demand for farm produce even at the same price — "a leftward shift in the demand curve".
Steps taken:
The Central government sought to partly address the demand-side problem through enhanced state crop procurement.
The minimum support price (MSP) value of such purchases of wheat, rapeseed-mustard, chana(chickpea), tur (pigeon-pea), paddy and cotton amounted to roughly Rs 130,000 crore during April-July 2020.
Together with nearly Rs 21,000 crore of first-installment direct transfers to farmer accounts under the PM-Kisan scheme, it added up to over Rs 1.5 lakh crore of liquidity infusion into the agricultural economy.
One must emphasize that MSP procurement was effective largely in crops and regions where the institutions undertaking such operations.
Food Corporation of India, NAFED, Cotton Corporation of India or even cooperative dairies were active and could stem price declines during the period of demand destruction from late-March till July.
Such intervention was not possible in non-mainstream produce (vegetables, fruits, poultry, fish, flowers, spices, etc) and regions (maize in Bihar), where the corresponding institutional mechanisms were non-existent.
After lockdown:
The demand situation improved, though, with the gradual lifting of lockdown restrictions and the recovery in global agri-commodity prices.
The UN Food and Agricultural Organization's food price index had plunged to a four-year low in May 2020, following synchronous worldwide lockdowns to contain the spread of the novel coronavirus.
But as economies unlocked, prices started rising from around August and the index hit an 83-month-high in April 2021.
The benefits of price recovery were really felt during the marketing of the 2020-21 rabicrop, which was a bumper one like that harvested during last year's lockdown. But this time round, many farmers also realized good prices.
The effects of good monsoon, lockdown exemptions, stepped-up government procurement, and better price realizations were also borne out by domestic tractor sales.
While agriculture grew amid an unprecedented economic contraction, 2020-21 was also notable for the record 389.35 crore person-days of employment generated under MGNREGA.
Can rural playing "saviour" be repeated in 2021-22?
That situation has changed with the second wave and rising share of rural districts in total cases, even without factoring in the higher probability of underreporting in these places.
Covid's impact on agriculture per se would depend on the spread, intensity, and duration of the infection.
Given that the main kharif planting season will take off only after mid-June with the arrival of the monsoon rains, a reduction in the active caseload by then can help avert significant operational disruptions.
While fear of the virus may induce precautionary behaviour and postponement of purchases of tractors, two-wheelers, or white goods, it is unlikely to affect normal agricultural operations.
The second factor to be considered is the monsoon. The India Meteorological Department, in its latest June 1 update, has forecast a 74% probability of rainfall during the current season being "normal", "above-normal" or "excess".
A third source of uncertainty is prices. Global prices — be it of wheat, maize, soyabean, palm oil, sugar, skimmed milk powder or cotton — have scaled multi-year highs in the recent period, helping India's agri-commodity exports in 2020-21 to recover to near their peak 2013-14 levels.
Conclusion:
Beyond 2021-22, the real challenge for Indian agriculture and farmers will be on the demand side. That is specifically going to come from declining real incomes and particularly affecting demand for milk, pulses, egg, meat, fruits, vegetables, and other protein/micronutrient-rich foods.
While rising rural wages and overall incomes is what propelled the demand for these foods in the past — in turn, contributing to dietary and cropping diversification — the ongoing slide presents a frightening proposition. This is a topic deserving separate analysis.
Current Affairs (3rd June 2021)
World getting closer to Internet from the skies
Context:
Following the successful launch of 36 satellites, OneWeb's Low Earth Orbit (LEO) constellation reached 218 in-orbit satellites.
The company only has one more launch to complete before it obtains the capacity to enable its 'Five to 50' service of offering internet connectivity to all regions north of 50 degrees latitude.
The Five to 50 service is expected to be switched on by June 2021 with global services powered by 648 satellites available in 2022.
About OneWeb:
It is a global communications company that aims to deliver broadband satellite Internet around the world through its fleet of LEO satellites.
In 2010, the company declared bankruptcy but was able to resume operations following an inflow of investment from a consortium consisting of the UK Government, Hughes Communication, Bharti Global Limited, SoftBank and Eutelsat, a leading European satellite operator.
OneWeb satellites are built at a OneWeb and Airbus joint venture facility in Florida that can produce up to two satellites a day.
The launch roll-out of the satellites is facilitated by French company Arianespace using Russian made Soyuz rockets. The company has announced plans to enter the Indian market by 2022.
LEO technology
LEO satellites have been orbiting the planet since the 1990s, providing companies and individuals with various communication services.
LEO satellites are positioned around 500km-2000km from earth, compared to stationary orbit satellites which are approximately 36,000km away. Latency, or the time needed for data to be sent and received, is contingent on proximity.
As LEO satellites orbit closer to the earth, they can provide stronger signals and faster speeds than traditional fixed-satellite systems.
As signals travel faster through space than through fibre-optic cables, they also have the potential to rival if not exceed existing ground-based networks.
Individual satellites can only make direct contact with a land transmitter for a short period of time thus requiring massive LEO satellite fleets and consequently, a significant capital investment.
Due to these costs, of the three mediums of Internet – fibre, spectrum and satellite – the latter is the most expensive.
In line with that assessment, LEO satellite broadband is only preferable in areas that cannot be reached by fibre and spectrum services. OneWeb's target market will therefore be rural populations and military units operating away from urban areas.
Criticisms of LEO satellites
During the days of the Sputnik and Apollo missions, governments dominated and regulated space-based activities. However, today, the balance of power has shifted from countries to companies.
Euroconsult, a leading satellite consultancy firm, estimates that 1,250 satellites will be launched annually this decade, with 70% of them for commercial purposes.
Even government entities like the US Department of Defence have turned to private providers, entering into a contract to buy satellites from SpaceX.
As a result, there are questions related to who regulates these companies, especially given the myriad of nations that contribute to individual projects.
There are logistical challenges with launching thousands of satellites into space as well. Satellites can sometimes be seen in the night skies which creates difficulties for astronomers as the satellites reflect sunlight to earth, leaving streaks across images.
Satellites travelling at a lower orbit can also interrupt the frequency of those orbiting above them, an accusation that has been levelled against Starlink satellites already.
There are already almost 1 million objects larger than 1cm in diameter in orbit, a byproduct of decades of space activities. Those objects, colloquially referred to as 'space junk,' have the potential to damage spacecrafts or collide with other satellites.
Indian satellite internet market
The acquisition of OneWeb by Bharati Limited could give it a distinct advantage in India and parts of Africa, in which another Bharati company, Airtel, already has a significant presence.
Currently, Starlink and OneWeb aim to launch in India by 2022, with Amazon's Project Kuiper also in talks to receive regulatory approval to operate in the country.
Over 70% of rural Indians do not have access to the Internet, as there is an increasing need for digital integration in the fields of education and banking considering the pandemic.
However, while companies like OneWeb and Starlink have marketed themselves to rural Indian consumers, given their price points (and expected price points in the case of OneWeb,) it is unlikely that most rural Indians will be able to afford their services.
Additionally, according to the ADB report referenced earlier, "telecom operators are already challenging the expected market entry of NGSO (LEO) satellites," fearing that they could cut into their profits.
Barriers to entry and elevated prices will make it difficult for satellite broadband companies to operate in India in the short term but according to several estimates, they will eventually become a major player in the industry.
H10N3 bird flu
Context:
According to Beijing's National Health Commission (NHC), a 41-year-old man in China's eastern province of Jiangsu has been confirmed as the first human case of infection with a rare strain of bird flu known as H10N3.
About H10N3 bird flu:
H10N3 is a type of bird flu or avian flu. These illnesses are common in wild aquatic birds worldwide and can infect domestic poultry and other bird and animal species.
Infected birds shed avian flu in their saliva, mucus, and poop, and humans can get infected when enough of the virus gets in the eyes, nose, or mouth, or is inhaled from infected droplets or dust.
Is it a cause for concern?
Health authorities have played down the outbreak, saying the case was a sporadic virus transmission from poultry to humans, and the risk of causing a pandemic was extremely low.
H10N3 is a low pathogenic or relatively less severe strain of the virus in poultry and the risk of it spreading on a large scale is very low.
Prevention:
People should avoid contact with sick or dead poultry and avoid direct contact with live birds as much as possible.
People must pay attention to food hygiene now.
People should wear masks and improve self-protection awareness, while constantly monitoring fever and respiratory symptoms.
Different strains:
Several strains of bird flu have been found among animals in China but mass outbreaks in humans are rare.
The last human epidemic of bird flu in China occurred in late 2016 to 2017, with the H7N9 virus.
H5N8 is a subtype of the Influenza A virus (also known as the bird flu virus). While H5N8 only presents a low risk to humans, it is highly lethal to wild birds and poultry.
In April, a highly pathogenic H5N6 avian flu was found in wild birds in northeast China's Shenyang city.
Classification:
Influenza viruses are classified into subtypes based on two surface proteins, Hemagglutinin (HA) and Neuraminidase (NA). For example, a virus that has an HA 7 protein and NA 9 protein is designated as subtype H7N9.
5G and its radiation
Context:
Recently, an actor Juhi Chawla has filed a lawsuit in the Delhi High Court against the telecom technology upgradation, trial runs for which have started in India now.
About lawsuit:
5G 'radiation' emission will be "extremely harmful and injurious to the health and safety of the people".
She is not "against the implementation of technological advancements," but added that while using wireless devices one is "in a constant dilemma" about "RF radiation from wirefree gadgets and network cell towers".
5G technology and roll out in India:
5G promises to revolutionise mobile broadband and is a big generational leap over the existing 4G technology.
This new technology will be capable of not just ensuring fast internet on our phones, but also help power IoT (Internet of Things) networks to run connected cars and homes smarter.
It will also support streaming of rich media.
But 5G has not yet been rolled out in India though Bharti Airtel, Reliance Jio and Vodafone Idea have been given trial spectrum to test 5G technology in the country.
Once this is over, it is expected that networks will go live with the 5G bands by the end of this year. The 5G rollout is expected to gather pace in the country by 2022.
Impact of 5G radiation on human health:
More powerful 5G waves will emit more radiation and cause harm to humans as well as other living beings.
5G will require more towers to ensure better connectivity, and since it will power more than just our smartphones, it will increase human exposure to such radiation in general.
This is an extension of the idea that cellular towers, which emit low-level RF-EMF radiation, are in general damaging our bodies. But radiation from cellphone towers, mobile phones, WiFi routers is typically called non-ionising radiation like radio waves, microwaves, and optical radiation.
RF fields have been classified by WHO's International Agency for Research on Cancer (IARC) as possibly carcinogenic to humans (Group 2B).
Radiation at very high levels, also referred to as ionising radiation, heats up our tissue and can eventually lead to cancer.
This applies to medical devices such as a CT-scan machine or X-ray machine, which emit high-level ionising radiation.
Doctors don't recommend that you go get a CT-scan for every health issue because it does increase unnecessary exposure to radiation.
But there are increasing concerns that our smartphones, other WiFi-ready devices such as laptops, and mobile phone towers which also emit low level RF radiation are damaging our bodies given the constant exposure.
Current Affairs (4th June 2021)
Model Tenancy Act
Context:
After releasing the draft in 2019, the Centre recently formally approved the Model Tenancy Act (MTA) to streamline the process of renting property in India.
About:
States and Union Territories can adopt the Model Tenancy Act by enacting fresh legislation or they can amend their existing rental laws.
The model Act, if passed by the States and UTs, would prescribe the norms for lease agreements, deposits, dispute handling and other aspects of rental properties.
Separate rent authorities, courts and tribunals will be set up in districts to protect the interests of both the owner and the tenant.
Koklass pheasant
Context:
The rare subspecies of the male Koklass pheasant called the Pucrasia macrolopha meyerihas been photographed for the first time in India.
About:
Koklass pheasant is described as a resident bird of the Western Himalayas.
They are not known for migration and are essentially residential birds of mid-altitude dense forests in the Himalayas.
Of the nine subspecies identified across the world, four are found in the Uttarakhand, Jammu and Kashmir and Himachal Pradesh.
The male subspecies — meyeri — had not been recorded outside China and Tibet.

The bird has a distinctive golden ring and its emerald, green head distinguishes it from the female.

The bird has been declared extinct in Tibet.
The golden collar is not seen in the other subspecies found in India.
Two new robotic missions to Venus
Context:
Recently, the NASA announced two new robotic missions to Venus. Earlier, scientists obtained new data about Venus by bouncing radio waves off the planet.
Aim:
The two sister missions aim to understand how Venus became an inferno-like world capable of melting lead at the surface.
Significance:
The new missions will give fresh views of the planet's atmosphere, made up mostly of carbon dioxide, down to the core.
Previous Missions:
Indian Initiative: India plans to launch a new orbiter named Shukrayaanto Venus in 2024.
US:Marinerseries 1962-1974, Pioneer Venus 1 and Pioneer Venus 2 in 1978, Magellan in 1989.
Russia:Veneraseries of space craft's 1967-1983, Vegas 1 and 2 in 1985.
Japan:Akatsukiin 2015.
Europe:Venus Expressin 2005.
Sedition Case
Context:
The Supreme Court quashed the sedition case registered against journalist Vinod Dua in Shimla, Himachal Pradesh, more than a year after an FIR was filed against him by a local BJP leader over comments Dua made on his YouTube show criticising the Central government.
Issue:
The complainant had alleged that Dua had accused Prime Minister Narendra Modi of using "deaths and terror attacks" to get votes, and the journalist was charged under sections 124A (sedition), 268 (public nuisance), 501 (printing matter known to be defamatory) and 505 (statements conducive to public mischief).
Stand of SC:
On the issue of protection of freedom of speech and expression of media personnel, it said, "Every journalist is entitled to protection under the Kedar Nath Singh judgment (the famous verdict of 1962 on the scope and ambit of offence of sedition in the IPC)."
Kedar Nath Singh v State of Bihar (1962):
In 1953, Kedar Nath Singh, a member of the Forward Communist Party from Bihar, took on the ruling Congress during a rally at Begusarai, where he said,
"Today, the dogs of CBI are loitering around Barauni [in Begusarai]. Many official dogs are sitting even in this meeting. The people of India drove out the British from the country and elected these Congress goondas to the gaddi.
As we drove out the British, we shall strike and drive out these Congress goondas as well. They have today established a rule of lathis, bullets in the country.
We believe in revolution which will come, and in the flame of which, capitalists, zamindars and Congress leaders will be reduced to ashes, and on their ashes will be established a government of the poor and the downtrodden people of India."
The fiery speech led to his conviction and imprisonment by a first-class magistrate on sedition charges, and an appeal to the Patna High Court was struck down.
Then 1962, an appeal by Singh came before the Supreme Court, in which he questioned the constitutional validity of Section 124A, contending it stifled his right to free speech under Article 19 of the Constitution.
The top court had to lay down the law in the face of two directly conflicting interpretations of Section 124A by British era courts.
The two previous judgments, one from 1942 and the other from 1947, expressed contradictory views on whether the incitement to violence or a tendency to disturb public order was a necessary ingredient of the offence under Section 124A.
What did the Supreme Court rule?
In a landmark verdict, a Constitution Bench (five-judge) of the top court upheld the validity of section 124A (sedition) of the IPC, but also attempted to restrict the colonial-era law's scope for misuse by trying to demarcate the difference between which acts amounted to sedition and which ones did not.
It said that any act that had the "effect of subverting the Government" by violent means or creating public disorder would come within the definition of sedition.
It also upheld Section 505 (statements conducive to public mischief) as constitutionally valid.
However, the court ruled that disapproval of the measures of government with a view to their improvement or alteration by lawful means is not sedition.
It held that "comments, however strongly worded, expressing disapprobation of actions of the Government, without exciting those feelings which generate the inclination to cause public disorder by acts of violence" would not attract the penal offence.
A citizen has a right to say or write whatever he likes about the Government, or its measures, by way of criticism or comment, so long as he does not incite people to violence against the Government established by law or with the intention of creating public disorder.
Relaxation Two Child Policy by China
Context:
Recently, China relaxed its two-child policy and announced it will now allow three children per married couple.
It would increase the retirement age by a few months every year. For the past four decades, the retirement age in China has been 60 for men and 55 for women.
Decreasing Population:
A problem unique to China, though, is that unlike the other developed countries part of this trend, it is still a middle-income society, despite being the world's second-largest economy.
Prosperous countries like Japan and Germany, which face similar demographic challenges, can depend on investments in factories, technology, and foreign assets.
China, however, still depends on labour-intensive manufacturing and farming.
A drop in demographic dividendcould thus hurt China and other developing nations like India more than those in the rich world.
When the young population in a country declines, it creates labour shortages, which have a major detrimental impact on the economy.
More older people also means that demands for healthcare and pensionscan soar, burdening the country's social spending system further when fewer people are working and contributing to it.
Memorandum of Understanding Between India and Maldives
Context:
Recently, the Union Cabinet, chaired by the Prime Minister was apprised of the Memorandum of Understanding (MoU) signed between India and Maldives on cooperation in the field of Sustainable Urban Development.
About:
The MoU comes into effect on the date of signing by the two contracting parties i.e. 20th February, 2021 and will remain in force for indefinite period.
A Joint Working Group (JWG) will be constituted to strategize and implement programmes on cooperation under the framework of the MoU.

The Joint Working Group will meet once in a year, alternately in Maldives and in India.

Objectives: To facilitate and strengthen India-Maldives technical cooperation in the field of sustainable urban development including Urban Planning, Smart Cities Development, Solid waste management, Affordable housing, Urban Green Mobility, Urban Mass Rapid Transport, smart cities development and any other related area mutually agreed by contracting parties.

To promote strong, deep, and long-term bilateral cooperation in the field of Sustainable Urban Development between the two countries.
The MoU is expected to createemployment in the areas of sustainable urban development.
Bal Swaraj
Context:
According to Bal Swaraj Portal, as of May 29, 2021, nearly 10,000 children in the country are in immediate need of care and protection. They include children aged between zero and 17 orphaned or abandoned during the COVID-19 pandemic since March 2020.
About:
The National Commission for Protection of Child Rights (NCPCR) has created an online tracking portal "Bal Swaraj (COVID-Care)".
NCPCR has developed it in furtherance to its function as a monitoring authority under section 109 of the Juvenile Justice Act, 2015 and in view of the growing problem related to children affected by COVID-19.
This portal will do online tracking and real-time monitoring of Childrens who have lost both its parents or either of the parent during COVID-19 and need care and protection under Section 2(14) of the Juvenile Justice Act, 2015.
It will track children affected by COVID-19 right from the production of children before the Child Welfare Committee (CWC) to the restoration of the children to their parent/guardian/relative and its subsequent follow-up.
The data will be filled in the portal by the district officers and State officers for each child.
Current Affairs (5th June 2021)
SDG India Index 2020-21: NITI Aayog
Context:
Recently, the third edition of the Sustainable Development Goals (SDG) India Index and Dashboard 2020–21 was released by NITI Aayog.
The SDG India Index 2020–21 is developed in collaboration with the United Nations in India.
Highlights:
This edition of the index report focuses on the significance of partnerships as its theme.
India's overall SDG score improved by 6 points—from 60 in 2019 to 66 in 2020–21.
According to the 2020 SDG Index, India saw significant improvement in the Sustainable Development Goals (SDGs) related to clean energy, urban development, and health in 2020.
All the States showed some improvement from last year's scores.
Mizoram and Haryana saw the biggest gains.

The SDGs on eradication of poverty and hunger both saw significant improvement.
The SDGs that deal directly with wages and industrial growth reflect the fact that India's economy has taken a beating over the last year.
There has been a major decline in the areas of industry, innovation, and infrastructure as well as decent work and economic growth.
Clean Water and Sanitation SDG also saw a drop.
Kerala retained its position at the top of the rankings, with a score of 75, followed by Tamil Nadu and Himachal Pradesh, both scoring 72.
Bihar, Jharkhand, and Assam were the worst performing States.
About:
The NITI Aayog launched its index in 2018.
This Index aimsto monitor the country's progress on the goals through data-driven assessment and foster a competitive spirit among the States and Union Territories in achieving them.
100 being the highest score, it implies that the State/UT has achieved the targets set for 2030. '0' score implies that the state is at the bottom of the table.
NITI Aayog has the twin mandate to oversee the adoption and monitoring of the SDGs in the country and promote competitive and cooperative federalismamong States and UTs.
The index representsthe articulation of the comprehensive nature of the Global Goals under the 2030 Agenda while being attuned to the national priorities.
In 2015,the UNs General Assembly adopted the 2030 Agenda for Sustainable Development.
The 17 SDGs are abold commitment to finish what the Millennium Development Goals (MDGs) started, and tackle some of the more pressing challenges.
The SDG India Index 2020–21 is also live on an online dashboard,which has cross-sectoral relevance across policy, civil society, business, and academia.
The SDG India Index 2020–21 is more robust than the previous editions on account of wider coverage of targets and indicators with greater alignment with the National Indicator Framework (NIF).
The 115 indicators incorporate 16 out of 17 SDGs, with a qualitative assessment on Goal 17, and cover 70 SDG targets.
States and Union Territories are classified as below based on their SDG India Index score:
Aspirant: 0–49
Performer: 50–64
Front-Runner: 65–99
Achiever: 100
World Employment and Social Outlook Trends 2021 Report: ILO
Context:
Recently, the International Labour Organisation (ILO) has released the World Employment and Social Outlook: Trends (WESO) report 2021.
Impact of COVID-19:
It has pushed over 100 million more workers into poverty
The world would be 75 million jobs shortat the end of this year compared to if the pandemic had not occurred.
Relative to 2019, an estimated additional 108 million workers are now extremely or moderately poor, meaning that they and their family members are having to live on less than USD 3.20 per day (It is the World Bank poverty line for lower-middle-income countries) in purchasing power parity terms.
The sharp increase in poverty rates is due to lost working hours as economies went into lockdown, outright job losses, and a decline in access to good quality jobs.
Five years of progress towards the eradication of working poverty have been undone, as working poverty rates have now reverted to those of 2015.
Rising Inequality:
The pandemic has exacerbated existing inequalities in the labour market, with lower-skilled workers, women, young people, or migrants among the most affected.
Loss of Working Hours:
Many people have held onto their jobs but have seen their working hours cut dramatically.
In 2020, 8% of global working hours were lostcompared to the fourth quarter of 2019 — the equivalent of 255 million full-time jobs.
While the situation has improved, global working hours have far from bounced back, and the world will still be short the equivalent of 100 million full-time jobs by the end of this year.
Unemployment Rate:
Unemployment rate of 6.3% this year (2020-21), falling to 7% next year (2021-22)but still up on the pre-pandemic rate of 5.4% in 2019.
Women's Unemployment:
Women have suffered disproportionate job losseswhile seeing their unpaid working time increase.
The burden of intensified childcare and homeschooling activitieshas disproportionately fallen on them.
As a result, women's employment dropped by 5% compared with 3.9% for men.
Effect on Workers:
There will be pandemic's longer-term "scarring" effectson workers and enterprises.
Looking ahead, the projected employment growth will be insufficient to close the gaps opened up by the crisis,
Recommendation:
Concerted policy efforts are needed to prevent long-lasting damage.
It recommended among other things ensuring worldwide access to vaccinesand financial assistance for developing countries – including through debt restructuring or enhancing social protection systems.
Engagement between India and Australia
Context:
Recently, the frequentengagement on agriculture between India and Australia has been acknowledged in a virtual meeting held between the Agricultural Ministers of both the countries.
Major Highlights
The collaboration in agriculture is a part of the Comprehensive Strategic Partnership announced by both nations in their Virtual Summit of June 2020.
The India-Australia Grains Partnership was a significant inclusion aiming to use Australia's expertise in post-harvest management to strengthen rural grain storage and supply chains to reduce losses and wastage.
The National Institute of Agricultural Marketing is the nodal organisation from India.
Both Ministers expressed satisfaction on the progress of giving market access to the respective agricultural products.

Australia has recently given market access for export of Indian pomegranates and there would be a joint strategy for deeper access for Indian mangoes as well.
Eighth Global Nitrogen Conference:
Context:
The 8th International Nitrogen Initiative Conference (INI2020) was scheduled to convene in Berlin, Germany, from 3-7 May 2020. But, due to the pandemic it was cancelled last year and was held recently- virtually.
About the International Nitrogen Initiative Conference:
Set up in 2003 under sponsorship of the Scientific Committee on Problems of the Environment (SCOPE) and from the International Geosphere-Biosphere Program (IGBP).
It is a triennial event that brings together scientists from around the world dealing with reactive nitrogen compounds in agriculture, industry, traffic, soil, water, and air.
Objective: To stimulate an exchange among policymakers and other relevant stakeholders of results, ideas, and visions to improve future holistic management of reactive nitrogen.
The program is currently a sustained partner of Future Earth.
Nitrogen as an essential nutrient:
Nitrogen, which is a vital macronutrient for most plants, is the most abundant element in the atmosphere.
A little over 78% of dry air on Earth is nitrogen. But atmospheric nitrogen, or dinitrogen, is unreactive and cannot be utilised by plants directly.
Therefore, nitrogen-fixing bacteria like rhizobia live symbiotically with leguminous plants, providing nitrogen to the plant and soil in the form of reactive compounds like ammonia and nitrate.
How Nitrogen turned into pollutants from nutrients and how it is affecting health and environment?
Nitrogen compounds running off farmland have led to water pollution problems around the world, while nitrogen emissions from industry, agriculture and vehicles make a big contribution to air pollution.
Over 80% of the nitrogen in soil is not utilised by humans. While over four-fifths of the nitrogen is used to feed livestock, only about six per cent reaches humans in case of non-vegetarian diet, as compared to the 20% that reaches the plate of a vegetarian.
Therefore, Nitrogen becomes a pollutant when it escapes into the environment and reacts with other organic compounds. It is either released into the atmosphere, gets dissolved in water sources such as rivers, lakes, or groundwater, or remains in the soil.
It creates harmful algal blooms and dead zones in our waterways and oceans; the algae produce toxins which are harmful to human and aquatic organisms (and indirectly affects fisheries and biodiversity in coastal areas).
Contamination of drinking water: 10 million people in Europe are potentially exposed to drinking water with nitrate concentrations above recommended levels. This can have an adverse effect on human health.
Food Security: Excessive nitrogen fertiliser application contributes to soil nutrient depletion. As the world needs to feed an ever-growing population, loss of arable land is a major global problem.
The release of Nitrous Oxide is essentially a greenhouse gas which is harmful to the environment.
Current Affairs (7th June 2021)
Global minimum corporate tax rate
Context:
Finance Ministers from the Group of Seven (G7) nations have reached a landmark agreement in London setting a global minimum corporate tax rate.
About:
G7 has backed a minimum global corporation tax rate of at least 15%.
They also seek to put in place measures to ensure that taxes are paid in the countries where businesses operate based on the principle of 'Significant Economic Presence'.
How would a global minimum tax work?
The global minimum tax rate would apply to overseas profits of a multinational.
The envisaged framework allows individual governments to set whatever local corporate tax rate they want.
But if companies pay lower rates in a particular country, their home governments could "top-up" their taxes to the minimum rate, thus eliminating the advantage of shifting profits.
Reasons for the move:
A global minimum corporate tax will allow the major economies to discourage multinationals from shifting profits — and tax revenues — to low-tax countries.
This proposal from the major economies aims to reduce tax base erosion without putting their firms at a financial disadvantage, allowing competition on innovation, infrastructure, and other attributes.
Significance:
Reduce tax base erosion:
This measure will help close cross-border tax loopholes used by some of the world's biggest companies, thus will help limit base erosion and profit sharing (BEPS).
Increasingly, income from intangible sources such as drug patents, software and royalties on intellectual property has migrated to the low tax jurisdictions, allowing companies to avoid paying higher taxes in their traditional home countries.
As per some estimates, countries are losing $427 billion every year to tax havens. India suffers an annual loss of $10.3 billion from global tax abuse.
In tune with changed pattern of economy:
This agreement marks a much necessary reform of the global tax system to make it fit for the current global digital age where cross-border digital services are gaining prominence.
End the so-called race to the bottom and its negative consequences:
The introduction of a global minimum corporate tax will contribute to ending the decades-long "race to the bottom on corporate tax rates", in which countries have resorted to ultra-low tax rates and tax exemptions to lure multinationals companies to invest.
Such measures have cost such countries hundreds of billions of dollars whereas the corporate entities have only grown richer.
Form the basis of a global pact:
This landmark agreement could form the basis of a worldwide deal.
The Organization for Economic Cooperation and Development has been coordinating tax negotiations among 140 countries on rules for taxing cross-border digital services and curbing tax base erosion, including a global corporate minimum tax. The OECD and G20 countries aim to reach consensus on both by mid-year.
Move towards more equitable taxing rights:
The agreement has committed to reaching an equitable solution on the allocation of taxing rights. It will focus on protecting the interest of the market countries by awarding such countries certain degree of taxing rights on the profits of the multinational enterprises.
This will help ensure that MNCs would pay taxes where they operate and record their profits from based on the concept of 'Significant Economic Presence'.
Challenges:
Any final agreement could have major repercussions for low-tax countries and tax havens and is bound to be opposed by such countries.
Though there seems to be broad agreement on the framework of a global minimum corporate tax, there continue to be differences over the rate of such a tax.
The inclusion of investment funds and real estate investment trusts under such a system could also lead to some differences during the negotiations.
Crop loss due to pests
Context:
The Food and Agriculture Organization (FAO) estimates that at least 40 per cent of the world's agricultural crops are lost to pests each year.
About:
The report, titled Scientific review of the impact of climate change on plant pests, was prepared by the University of Turin in Italy. It was published on June 2, 2021.
The scientific review was prepared under the auspices of the Secretariat of the International Plant Protection Convention (IPCC) and was hosted by FAO.
It is one of the key initiatives of the International Year of Plant Health, which will come to an end in June this year.
The United Nations declared 2020 as the International Year of Plant Health. The Year was extended until July 1, 2021, due to the novel coronavirus disease (COVID-19) pandemic.
Invasive pests cost countries at least $70 billion annually and are one of the main drivers of biodiversity loss, according to estimates from the Food and Agriculture Organization of the United Nations (FAO).
The scientific review analysed 15 plant pests and found that climate change will increase the risk of pests spreading in agricultural and forestry ecosystems, especially in cooler Arctic, boreal, temperate, and subtropical regions.
Reasons:
Half of all emerging plant diseases are spread by global travel and trade, which have tripled in volume over the last decade. Such movements threaten food security in general.
The weather is the second-most important factor, according to the report.
Use of methods and equipment that hamper the growth of plants because of introduced bugs in them.
The report noted that a single, unusually warm winter can be enough to assist the establishment of invasive pests.
A few pests such as fall armyworm, which feed on crops like maize, sorghum and millet and Tephritid fruit flies (that damage fruit and other crops) have already spread due to a warmer climate.
Others, such as desert locusts (the world's most destructive migratory pests), are expected to change their migratory routes and geographical distribution because of climate change.
Impact:
Xylella fastidiosa is a deadly bacterium that attacks economically important crops such as olive, citrus or plum trees and grapevines. Since 2015, it's been rapidly spreading from the Americas to Europe and Asia.
Once Xylella fastidiosa infiltrates a plant, it is there to stay – it starves the plant of water until the plant dies or becomes too weak to grow fruit.
The oriental fruit fly (Bactrocera dorsalis) has affected trees such as avocado, banana, guava and mango in at least 65 countries. In Africa, import trade bans due to oriental fruit fly infestations cause annual losses of around $2 billion.
Recommendations:
When combating pests and diseases, farmers should adopt, and policymakers should encourage the use of environment-friendly methods such as integrated pest management.
There is an urgent need for more research as well as investment in strengthening national plant health systems and structures.
Regularly monitoring plants and receiving early warning information about emerging threats, helps governments, agricultural officers and farmers take preventive and adaptive measures to keep plants healthy.
Clean Energy Ministerial's (CEM) – Industrial Deep Decarbonization Initiative (IDDI)
Context:
India along with Government of United Kingdom launched new workstream to promote industrial energy efficiency under the Clean Energy Ministerial's (CEM) – Industrial Deep Decarbonization Initiative (IDDI) at the 12th Chief Energy Ministerial (CEM).
What is IDDI?
It is a global coalition of public and private organisations who are working to stimulate demand for low carbon industrial materials.
In collaboration with national governments, IDDI works to standardise carbon assessments, establish ambitious public and private sector procurement targets, incentivise investment into low-carbon product development and design industry guidelines.
Coordinated by United Nations Industrial Development Organization (UNIDO).
Members: The IDDI is co-led by the UK and India and current members include Germany and Canada.
CEM:
It was established in December 2009 at the UN's Framework Convention on Climate Change conference of parties in Copenhagen.
CEM is a high-level global forum to promote policies and programs that advance clean energy technology, to share lessons learned and best practices, and to encourage the transition to a global clean energy economy.
29 countries are part of CEM including India.
Monetary Policy Statement, 2021-22
Context:
The Monetary Policy Committee (MPC) held its meeting recently.
Rates:
Keep the policy repo rate under the liquidity adjustment facility (LAF) unchanged at 4.0 per cent.
Keep the reverse repo rate under the LAF unchanged at 3.35 per cent.
Keep the marginal standing facility (MSF) rate and the Bank Rate unchanged at 4.25 per cent.
Additional Measures announced by RBI to revive the economy:
On-Tap Liquidity Window for Contact-Intensive sectors:
A separate liquidity window of Rs. 15,000 Crore is being opened till March 31, 2022, with tenures up to three years, at the repo rate.
Under this scheme, Banks can give fresh lending support to Contact-Intensive sectors like hotels, restaurants, travel, rent-a-car service providers and saloons.
Special Liquidity Facility of Rs. 16,000 Crore to SIDBI, for on-lending / refinancing through novel models and structures at Repo Rate, for a period of up to one year. This is to further support credit requirements of MSMEs, including those in credit-deficient and aspirational districts.
Expansion of coverage of borrowers under Stress Resolution Framework 2.0, by enhancing maximum aggregate exposure threshold from Rs. 25 Crore to Rs. 50 Crore for MSMEs, non-MSME small businesses and loans to individuals for business purposes.
Regional Rural Banks can now issue Certificates of Deposit (CDs). Further, all issuers of CDs will be permitted to buy back their CDs before maturity, subject to certain conditions. This will facilitate greater flexibility in liquidity management.
National Automated Clearing House (NACH) to be available on all days of the week (currently available only on bank working days), effective from August 1, 2021. NACH is a popular and prominent mode of direct benefit transfer to large number of beneficiaries.