Great Indian Bustard
Why in news :
In a move that helps solar power projects in Rajasthan but may hinder efforts to make the region safe for the endangered Great Indian Bustard, the Central Electricity Authority (CEA) has proposed that only power lines below 33kV need to go underground and the rest be fitted with bird-diverters.
Conservationists have objected to the move as they say it could lead to the "extinction" of the bird.
The proposal was part of draft regulations issued on February 1 and open to public comment until March 3.
It came against the background of an ongoing case involving the threat to the bustard and other birds from power lines.
High-tension power lines in Rajasthan and Gujarat from solar plants often lie on the flight path of the birds.
In 2019, environmentalists approached the Supreme Court, which in 2021 directed all 'low-voltage' power lines, in areas demarcated as "priority and potential habitats of the Great Indian Bustard" in Thar and Kutch deserts, be pushed underground.
More about Great Indian Bustard :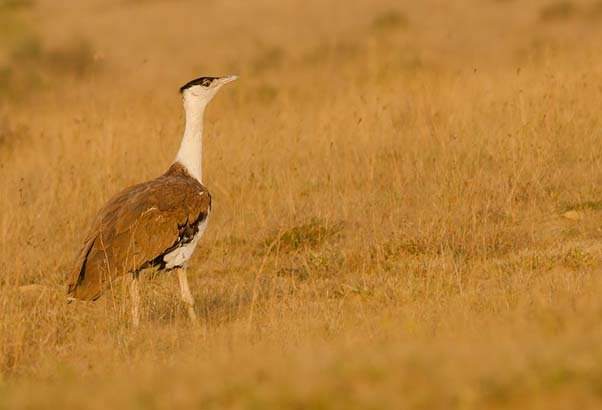 The great Indian bustard or Indian bustard, is a bustard found on the Indian subcontinent.
A large bird with a horizontal body and long bare legs, giving it an ostrich like appearance, this bird is among the heaviest of the flying birds.
Once common on the dry plains of the Indian subcontinent, as few as 150 individuals were estimated to survive in 2018 (reduced from an estimated 250 individuals in 2011).
The species is critically endangered by hunting and loss of its habitat, which consists of large expanses of dry grassland and scrub.
These birds are often found associated in the same habitat as blackbuck. It is protected under Wildlife Protection Act 1972 of India.
Distribution and habitat :
This species was formerly widespread in India and Pakistan.
The bustard is critically endangered in Pakistan primarily due to lack of protection and rampant hunting.
A few birds were detected in a September 2013 survey of the Cholistan Desert in Pakistan.
In India, the bird was historically found in Punjab, Haryana, Uttar Pradesh, Madhya Pradesh, Chhattisgarh, Odisha, Andhra Pradesh, Rajasthan, Gujarat, Maharashtra, Karnataka and Tamil Nadu.
Today the bustard is restricted to isolated pockets in Andhra Pradesh, Gujarat, Karnataka, Maharashtra, Madhya Pradesh and Rajasthan (shared with Pakistan).
The habitat where it is most often found is arid and semi-arid grasslands, open country with thorn scrub, tall grass interspersed with cultivation.
It avoids irrigated areas.
The major areas where they are known to breed are in central and western India and eastern Pakistan.
The dry semi-desert regions where it was found in parts of Rajasthan has been altered by irrigation canals that have transformed the region into an intensively farmed area.
Syllabus : Prelims; Environment