LANDFILLS CATCHING FIRE DURING SUMMERS
CONTEXT :
Recently the Kochi landfill site around Brahmapuram, caught massive fire earlier this month.
MORE ABOUT THE INDIA'S LANDFILLS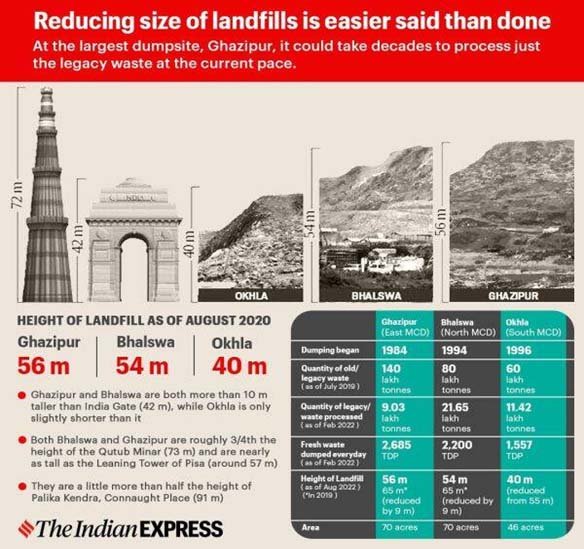 India's municipalities have been collecting more than 95% of the waste generated in cities.
The efficiency of waste-processing plants to treat the waste is 30%-40% at best.
Municipal solid waste consists of about 60% biodegradable material, 25% non-biodegradable material and 15% inert materials, like silt and stone.
Municipalities are expected to process the wet and dry waste separately and to have the recovered by-products recycled.
TYPES OF LANDFILLS FIRES
Moreover fires take place on the surface, where fuel and oxygen are in great supply. The other kind can stretch down 40 feet and smolders underground.
SURFACE LANDFILL FIRES
This mostly occurs if the landfill accepts hot things (such as barbecue coals or other ashes) or overstuffs the landfill gas collecting system, a surface fire may ignite.
Surface garbage burning will produce a sizable amount of poisonous and putrid smoke if nothing is done.
SUBSURFACE LANDFILL FIRES
Spontaneous combustion or overdrawing a gas collecting system are the two main causes of subsurface fires.
These flames are characterized by the fast oxidation of organic waste and tend to burn slowly without apparent flame or copious amounts of smoke.
Usually, an actual flame is not visible during this type of fire unless the subsurface fire is excavated and exposed to the atmosphere.
HOW DO LANDFILLS CATCH FIRE?
The rate of waste processing in India's cities is far lower than the rate of waste generation.
Thus, unprocessed waste remains in open landfills for long periods of time.
This openly disposed waste includes flammable material like
Low-quality plastics, which have a relatively higher calorific value of about 2,500-3,000 kcal/kg, and rags and clothes.
Mainly in summers, the biodegradable fraction composts much faster, increasing the temperature of the heap to beyond 70-80°C.
A higher temperature coupled with flammable materials is the perfect situation for a landfill to catch fire.
SOLUTION TO THE LANDFILLS ISSUE
There are two possible permanent solutions to manage landfill fires.
The first solution is to completely cap the material using soil, and close landfills in a scientific manner.
This solution is unsuitable in the Indian context, as the land can't be used again for other purposes.
Closed landfills have specific standard operating procedures, including managing the methane emissions.
The second solution is to clear the piles of waste through bioremediation — excavate old waste and use automated sieving machines to segregate the flammable refuse-derived fuel (RDF) (plastics, rags, clothes, etc.) from biodegradable material.
The recovered RDF can be sent to cement kilns as fuel, while the bio-soil can be distributed to farmers to enrich soil.
The inert fraction will have to be landfilled.
However, implementing a bioremediation project usually takes up to two or three years, necessitating a short-term solution for summer time landfill fires.
SOME IMMEDIATE MEASURES TO CONTROL LANDFILL FIRES
As Landfill sites span 20-30 acres and have different kinds of waste.
The first immediate action is to divide a site into blocks depending on the nature of the waste.
At each site, blocks with fresh waste should be separated from blocks with flammable material.
Blocks that have been capped using soil are less likely to catch fire, so portions like these should also be separated out.
The different blocks should ideally be separated using a drain or soil bund and a layer of soil should cap each block.
This reduces the chance of fires spreading across blocks within the same landfill.
Next, the most vulnerable part of the landfill — the portion with lots of plastics and cloth — should be capped with soil.
The fresh-waste block shouldn't be capped but enough moisture should be provided by sprinkling water and the material should be turned regularly for aeration, which helps cool the waste heap.
Already segregated non-recyclable and non-biodegradable waste should be sent to cement kilns instead of being allowed to accumulate.
GOVERNMENT INITIATIVES TO TACKLE THE ISSUE
Swachha Bharat Mission – Urban (SBM-U).
Swaccha Survekshan: An annual survey of cleanliness, hygiene and sanitation in cities and towns across India is undertaken. It has been launched as a part of the SBM-U under the Ministry of Housing and Urban Affairs (MoHUA).
Swachhata Hi Sewa Campaign: It has been launched for ensuring cleanliness through the various stakeholders' engagement in the 'Jan Andolan'.
Compost Banao, Compost Apnao Campaign: It is a multi-media campaign launched by MoHUA on waste-to-compost under SBM-(U).
WAY FORWARD
While these measures can help reduce the fires' damage, they're far from ideal and not long-term solutions.
The 4 R's philosophy of Reducing, Reusing, Recycling, and Recovering Resources should be actively encouraged.
The permanent and essential solution is to ensure cities have a systematic waste­ processing system where wet and dry waste are processed separately and their byproducts treated accordingly.
SOURCE : THE HINDU
SYLLABUS : MAINS, GS-3 ENVIRONMENT