No joint communique after G-20 Foreign ministers' meet : What were the two contentious paras
Context- The G-20 Foreign Ministers' meeting on March 2 was unable to agree to a joint communique, over differences between Russia and the West on the war in Ukraine.
Para 3 read:
"The war in Ukraine has further adversely impacted the global economy. There was a discussion on the issue. We reiterated our national positions as expressed in other fora, including the UN Security Council and the UN General Assembly, which, in Resolution No. ES-11/1 dated 2 March 2022, as adopted by majority vote (141 votes for, 5 against, 35 abstentions, 12 absent) deplores in the strongest terms the aggression by the Russian Federation against Ukraine and demands its complete and unconditional withdrawal from the territory of Ukraine.
Para 4 read:
"It is essential to uphold international law and the multilateral system that safeguards peace and stability. This includes defending all the Purposes and Principles enshrined in the Charter of the United Nations and adhering to international humanitarian law, including the protection of civilians and infrastructure in armed conflicts. The use or threat of use of nuclear weapons is inadmissible. The peaceful resolution of conflicts, efforts to address crises, as well as diplomacy and dialogue, are vital. Today's era must not be of war."
There was a footnote in the Chair's Summary that these Paragraphs 3 and 4, as taken from the G20 Bali Leaders' Declaration (15-16 November 2022), were agreed to by all member countries except Russia and China.
This is because Russia does not want a reference to the Russia-Ukraine war in the Foreign ministers' meeting. Russia feels that the meetings are about economy, growth, development and other global challenges. China supports Russia's contention.
What is the G-20 logo's importance?
Logo reflects our idea of Vasudhaiva Kutumbakam (the whole earth is a family). "The lotus flower symbolizes our Puranic heritage, our aastha (belief) and boddhikta (intellectualism).
Motto is "One Earth One Family One Future"
What is G-20?
The G20 is an intergovernmental forum comprising of 19 countries and the European Union (EU). It works to address major issues such as global economy, international financial stability, climate change mitigation and sustainable development. It comprises of 85% of Global GDP and 75% of Global trade.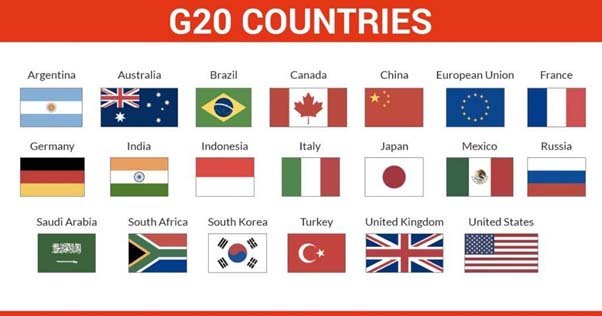 (Credits- SAG Infotech blog)
What are India's priorities for G20?
India has repeatedly spoken about the global South, hence, positioning itself as the voice of the developing world.
India is readying push for global consensus on maintaining stable supply chains for food and fertilizers to ensure food security, and for stable supply of energy.
Taking its digitized public goods architecture to developing countries including UPI.
Pushing a global campaign for a sustainable lifestyle, LiFE (Lifestyle for Environment).
Way Forward- It is an opportunity for India to make a mark as a global leader, to unite countries on common issues and to make developing countries issues a priority on International stage.
Source- Indian Express
NEWS- No joint communique after G-20 Foreign ministers' meet : What were the two contentious paras
Syllabus- GS-3; International Relations