UPI-PayNow link
Why in news :
On Tuesday, India's Unified Payments Interface (UPI) and Singapore's PayNow were officially connected to allow for "real-time payment linkage".
The initiative is a part of the government's push towards as UPI-based payment ecosystem.
In January 2023, the National Payments Corporation of India (NPCI) enabled international phone numbers to be able to transact using UPI.
Singapore is the first country with which cross-border Person to Person (P2P) payment facilities have been launched.
The plan was first announced by the Reserve Bank of India (RBI) and the Monetary Authority of Singapore (MAS) in September 2021 to facilitate instant low-cost, cross-border fund transfer.
Significance of the move :
It would further anchor trade, travel and remittance flows between the two countries.
It would help the Indian diaspora in Singapore, especially migrant workers and students and "bring the benefits of digitalisation and fintech to the common man through instantaneous and low-cost transfer of money from Singapore to India and vice-versa."
What are real time payments?
Real­time payments are money transfers that are mostly settled as soon as they are performed.
RTPs are allowed 24×7, 365 days a year.
They help simplify the process of fund transfer as well as ease communication between the payer and the payee.
P2P payments involve the transfer of funds from one user's bank account to another through a digital medium.
Common examples of P2P mobile apps in India include GPay and Paytm.
Using P2P payments eliminates the risk of sharing bank account details.
Working mechanism of the scheme :
For users at the Indian end, State Bank of India, Indian Overseas Bank, Indian Bank and ICICI Bank will facilitate both inward and outward remittances, while Axis Bank and DBS India will only facilitate inward remittances for now.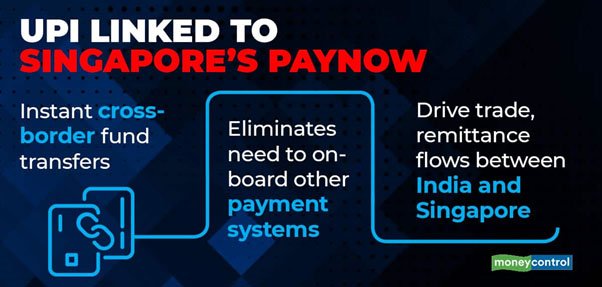 DBS-Singapore and Liquid Group, a fintech company, will facilitate the service for users in Singapore.
More banks will be included in the linkage with time, the RBI said in a press release.
Account holders of listed banks can transfer funds to/from India using their UPI ID, mobile number, or Virtual Payment Address (VPA).
To begin with, Indian users can remit up to ₹60,000 per day. This is equal to around $ (Singapore) 1,000.
Cross-border remittances to Singapore can be done through the bank's mobile application or internet banking facilities.
Apps of participating Indian banks will have an opt in/opt out feature for receiving remittances from Singapore.
Currently, only UPI IDs registered with the same bank where an account is held can be used to receive remittances in accounts of participating banks.
The P2P remittances between India and Singapore are only allowed for purposes of "maintenance of relatives abroad" and "gifts".
According to the RBI, participating banks will roll out updates to allow global remittances in their UPI apps in a phased manner.
India has also considered allowing UPI remittances from other countries like the United Arab Emirates (UAE) which hosts a large Indian population.
Syllabus : Prelims + Mains; GS3- Economy