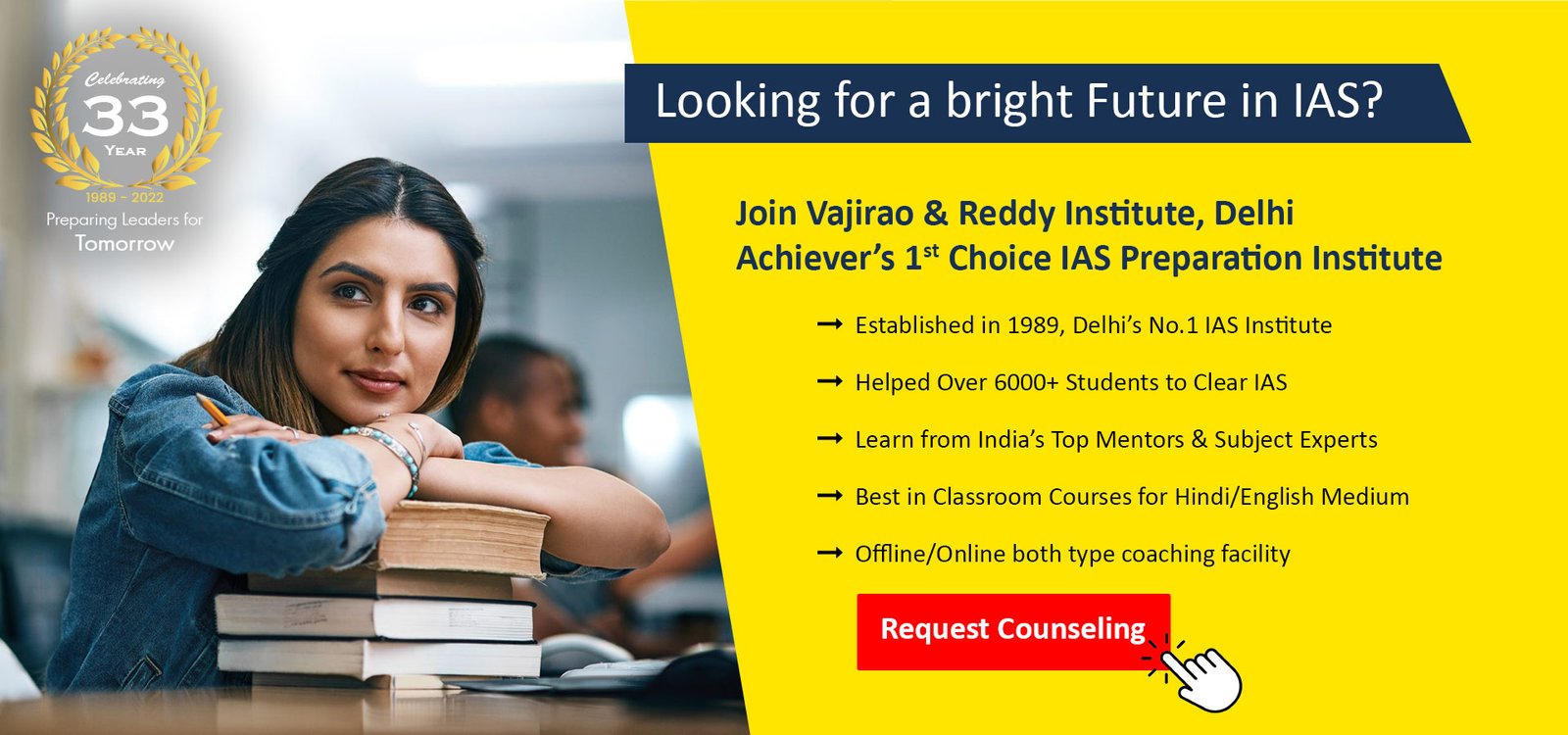 IAS Coaching in Delhi, India
Best IAS Coaching & Top IAS Institute in India
Vajirao IAS is India's Top IAS Institute and Best IAS coaching in Delhi, India. It has a well-known name and it's considered as the best institute for IAS in Delhi. If you are looking to join the Best IAS Coaching in India? Join Vajirao IAS today to get started.
About Vajirao IAS Coaching in Delhi
Vajirao IAS is equipped with the team of top most faculties for preparation of IAS (Main+Advanced) who are known for producing best results year after year. Our meticulously planned courses and well-timed completion of the syllabus renders sufficient time to the IAS aspirants for self-studies and thorough revision. Our subject experts explain the basics in a simple manner using illustrations which helps students to get well acquainted with the topics.
Our UPSC IAS courses are elite in their perfectionism & proficiency and they lead the students to the peak of their preparation while simultaneously covering the UPSC syllabus (Prelims & Mains exams). The curriculum is revised frequently to keep pace with the fast changing competitive environment. The faculty is a blend of rich academic experience and vast knowledge. The series of periodic mock tests are identical to the pattern of Civil Services examinations and give ample practice to the aspirants for the same.
Our Achievement
Click on See all achievement to view list of selections.
Our Courses for IAS Coaching in Delhi
Backed by years of experience and on-going research & analysis of UPSC Civil Services Exam pattern, We provides the Best IAS Coaching In Delhi with low fees for UPSC-CSE Preparation.
Classroom Courses
Our classroom courses are ideal for students who prefer to attend regular IAS classes in Delhi. These classes are held in a conducive environment, and we provide you with all the study material you need to prepare for the exam.
Weekend Batches
Our weekend batches for IAS in Delhi are designed for students who cannot attend regular classes due to other commitments. These batches are held on weekends and provide the flexibility to balance work and study.
Online Live Classes
Our live classes are conducted online and provide you with the convenience of attending classes from the comfort of your home. We use the latest technology to provide you with an interactive learning experience.
UPSC Test Series
Our test series are designed to help you evaluate your preparation and identify areas where you need to improve. We conduct regular mock tests and provide you with detailed feedback to help you improve.
UPSC Correspondence Course
Our correspondence courses are ideal for students who cannot attend regular classes and prefer to study at their own pace. We provide you with study material and online resources to help you prepare for the exam.
Interview Guidance Program
Our interview guidance program is designed to help you prepare for Personality Tests (Interviews) of the Civil Services (Main) Examination. We provide you with mock interviews and one-on-one guidance from mentors to help you improve your interview skills.
Resources for Beginners
Vajirao IAS free resources for beginner UPSC aspirants are specifically designed from the perspective of UPSC Civil Services Examination. These are aligned to the demands of UPSC prelims, mains and complimented with previous years question papers.
Why Join us for Best IAS Coaching in Delhi?
Getting a first-hand feel of studying in a rigorously competitive environment, our students further develop their ability of problem solving skills and demonstrate superior performance. Every test attempted by the students gives them a clear idea of their understanding of the topic, strengths and weaknesses, ranking amongst the aspirants from across India. By being a part of the on-going year round curriculum, they adapt themselves well to the pattern of paper and are successful in the examination with ease. Besides delivering knowledge we encourage and motivate our students to make most of their abilities by boosting their confidence.
Vajirao is wholly committed to imparting career based education and students have the benefit of our expertise and knowledge every day throughout the year. From our core curriculum of preparatory studies to the detailed subject analysis through tests, our students have an access to all that is required to be successful in UPSC IAS (Prelims+Mains).
Submit An Enquiry
We'd love to hear from you. Leave us a message using the form below.