Current Affairs (20th February 2021)
PROJECTS IN ASSAM
CONTEXT:
Highlighting the ruling government's commitment to increasing connectivity and development in Assam and the Northeast, Prime Minister launched multiple initiatives in Assam, including the Mahabahu-Brahmaputra inland waterway project and the foundation stone of two bridges across the Brahmaputra.
BRAHMAPUTRA:
Originates under the name of Siang or Dihang, from the Chemayungdung glacier of the Kailash range near the Mansarovar lake.
Enters India west of Sadiya town in Arunachal Pradesh.
Tributaries: Dibang, Lohit, Siang, Burhi Dihing, Tista, and Dhansari.
Perennial river
Flooded twice annually
ABOUT:
Earlier, PM also laid the foundation stone for two medical colleges and launched the Asom Mala, a major road network project.
To mark the Rs 3,200 crore Mahabahu-Brahmaputra initiative — aimed at improving water transport connectivity — PM inaugurated three Ro-pax vessel operations between:

Neemati Ghat (Jorhat) and Majuli island : reduce travel time of 11 hours to one hour: bridge of "convenience and possibilities"
North Guwahati and South Guwahati : reduce from three hours to 30 minutes
Dhubri and Hatsingimari : take three hours, instead of eight

PM also laid the foundation stone of Inland Water Transport (IWT) Terminal at Jogighopa and various tourist jetties on the Brahmaputra and launched two portals for ease-of-doing-business.
19-km-long four-lane bridge over the Brahmaputra foundation was also laid down — which will be India's longest bridge over a river — that connects Dhubri in Assam and Phulbari in Meghalaya, to be constructed at the cost of Rs 5,000 crore.
A new 8-km-long two-lane bridge foundation was also laid down that would connect Kamalabari in Majuli, the world's largest river island to Neematighat in Jorhat.
SIGNIFICANCE:
Whether it is the Bhupen-Hazarika Setu, the Bogibeel Bridge or Saraighat Bridge, all have made life easier in Assam.
It has not just strengthened the internal security of the country, but protected the brave soldiers of our nation.
Dhubri-Phulbari bridge will improve connectivity to South Assam's Barak Valley and reduce distance between the other Northeastern states of Meghalaya, Manipur, Mizoram and Assam. Assam and Meghalaya will have a direct connection with West Bengal through this bridge.
INFRA PROJECTS IN KERALA
CONTEXT:
Prime Minister naugurated a bevy of infrastructure projects in Kerala, including the 2,000-MW Pugalur-Thrissur high voltage direct current (HVDC) power transmission corridor.
He highlighted that "development is our aim, development is our religion". Power transmission corridor would ensure the transfer of a large quantum of power from the national grid to the State and guarantee reliable access to electricity.
What is launched?
50-MW solar park in Kasaragod
75-mld (million litres a day) water treatment plant at Aruvikkara, Thiruvananthapuram
Work on two Smart City Mission initiatives in the capital — the ₹427-crore 37-km Smart Road project and the Integrated Command and Control Centre at the City Corporation.
NATIONAL GRID LINK
The Pugalur-Thrissur line is Kerala's first HVDC inter-connection with the national grid and the country's first system to use the voltage source converter technology.
Kochi and Thiruvananthapuram had made significant progress under the Smart Cities Mission (AIMS to integrate city functions, utilize scarce resources more efficiently, and improve the quality of life of citizens.).
Under the mission, 27 projects worth ₹770 crore had been completed in the two cities, while 68 projects worth ₹2,000 crore were in the pipeline.
As many as 175 water supply projects worth ₹1,100 crore were being taken up in Kerala under AMRUT (Atal Mission for Rejuvenation and Urban Transformation).
Government was giving utmost importance to the blue economy. Development strategies targeting the fishermen community were based on "more credit, increased technology, top-quality infrastructure, and supportive government policies". Government policies would ensure that India became a hub of seafood exports.
Indradhanush 3.0
CONTEXT:
Health and Family Welfare Minister launched Intensified Mission Indradhanush 3.0, (IMI 3.0) to expand immunization coverage across the country. 
ABOUT:
It will have two rounds starting from the 22nd of this month and the 22nd of March 2021.
It will be conducted in pre-identified 250 districts and urban areas across 29 States and UTs in the country. Both rounds will be for 15 days each.
A portal of IMI 3.0 has also been launched besides releasing the Operational Guidelines and the awareness material of the campaign.
IMI 3.0 will build on the gains of previous phases of the campaign and make lasting gains towards Universal Immunization.
IMI 3.0 is aimed at  reaching  the unreached population with all the available vaccines under Universal Immunisation Programme  and thereby accelerate the full immunization and complete immunization coverage of children and pregnant women.
The focus of the IMI 3.0 will be the children and pregnant women who have missed their vaccine doses during the COVID-19 pandemic.
They will be identified and vaccinated during the two rounds. Beneficiaries from migration areas and hard to reach areas will be targeted as they may have missed their vaccine doses during COVID19.
The present campaign will target achieving 90 % Full Immunization Coverage in all districts and sustain the coverage through immunization system strengthening and foster India's march towards the Sustainable Development Goals.
Since its first phase, Mission Indradhanush has covered 690 districts and vaccinated 37.64 million children and 9.46 million pregnant women.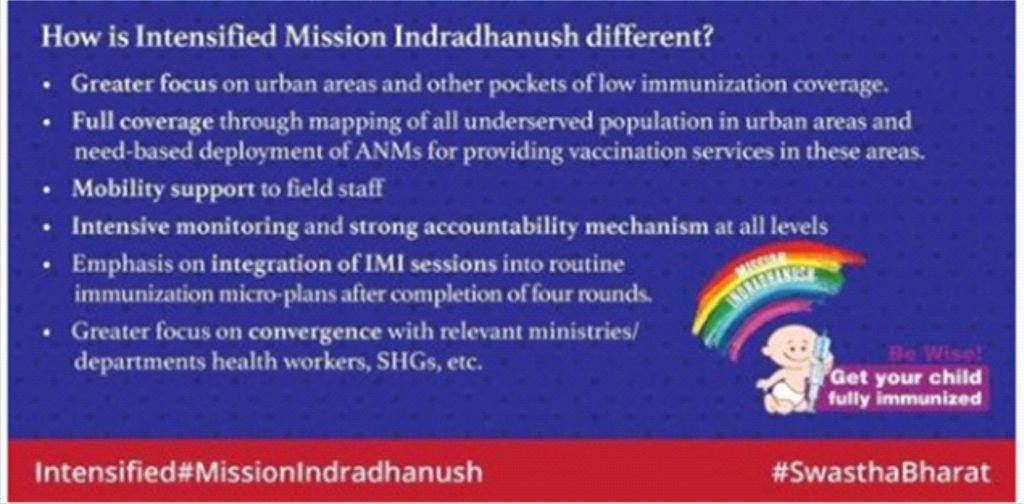 11th India-EU Macroeconomic dialogue
CONTEXT:
The 11th India-EU Macroeconomic dialogue was held through video conferencing.
ABOUT:
The dialogue covered sharing of their experiences to enable both sides on various aspects including collaboration in the G20 on finance track matters, including through G20 Framework Working Group deliverables, G20 Action plan, debt related issues and international taxation of digital economy.
Fiscal policy response and medium-term fiscal strategy including financial or structural reforms priorities were also discussed.
India shared its policy response to Covid crisis and steps taken to revive the economy from Covid impact including well calibrated stimulus packages announced by Government of India as also the vaccination related efforts.
The EU informed about the economic challenges and outlook of their economy due to the adverse impact of Covid pandemic in EU countries, including macroeconomic policy response and EU recovery plan.
The dialogue concluded with the hope that both sides would be able to build stronger and deeper relations by entering into various bilateral cooperation arrangements which are of mutual interest to both sides.
India-EU relationship
India-EU relations date to the early 1960s, with India being amongst the first countries to establish diplomatic relations with the European Economic Community.
A cooperation agreement signed in 1994 took the bilateral relationship beyond trade and economic cooperation.
It has evolved into a multifaceted partnership. Today, it covers all dimensions-political, economic, security, trade and investment, environment, research and innovation.
The EU is one of India's largest trading partners, one of the largest investors in India and an important source for technology, innovation and best practices.
India is an important trade and investment partner for the EU. It represents a sizable and dynamic market, with an annual GDP growth rate of around 6% (pre-Covid-19).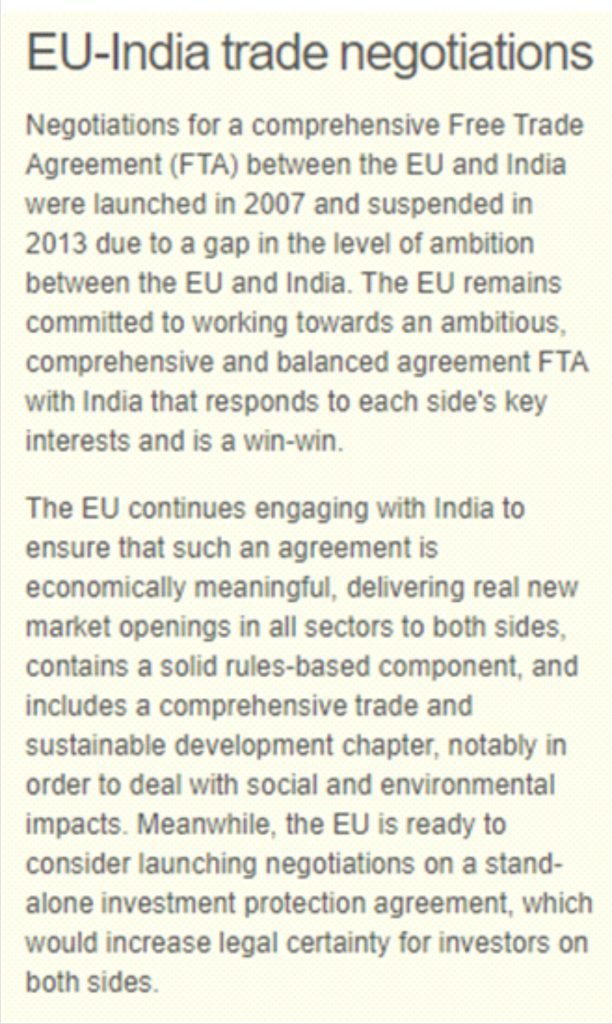 BIOMETRIC AUTHENTICATION
CONTEXT:
In a bid to cut out middleman and ensure greater transparency in the procurement of farm produce, the Centre is encouraging States to deploy biometric authentication of farmers.
ADOPTED IN WHICH STATES?
Uttar Pradesh and set to be rolled out in Madhya Pradesh, Chhattisgarh and Odishain 2021, will aid in tracking the end use beneficiary.
SIGNIFICANCE:
This initiative would reduce the need for extensive paperwork, prevent leakages and speed up the process of procurement, with payment settlement being completed within 72 hours.
The other advantage is that the farmer gets a receipt for his goods, showing the quantity and the MSP price, so nobody can cheat the farmer.
Oil and gas sector in Tamil Nadu
CONTEXT:
The Prime Minister laid the foundation of key projects of the oil and gas sector in Tamil Nadu via video conferencing.
ABOUT:
Prime Minister dedicated to the nation the Ramanathapuram – Thoothukudi natural gas pipeline and Gasoline Desulphurisation Unit at Chennai Petroleum Corporation Limited, Manali.
He also laid the foundation stone of Cauvery Basin Refinery at Nagapattinam.
The Prime Minister raised the issue of India importing over 85 percent of oil and 53 per cent of gas to meet the demand in 2019-20.
He stressed had we focused on these subjects much earlier, our middle class would not be burdened. Now, it is our collective duty to work towards clean and green sources of energy, reduce energy dependence. "Our Government is sensitive to the concerns of the middle class".
To achieve this India is now increasing the focus on ethanol to help farmers and consumers.
There is a focus on furthering usage of solar power to become a leader in the sector.
Public transport is being encouraged and alternative sources like LED Bulbs are being embraced to enable huge savings for middle class households.
The Prime Minister asserted that while India is working to meet the growing energy demand, It is also reducing energy import dependence and diversifying import sources.
In 2019-20, India was 4th in the world in refining capacity. About 65.2 million tonnes of petroleum products have been exported.This number is expected to rise even further.