India's Submarine Strength
The Indian Express
GS 3: Defence and Security
Context:
Recently, the CBI filed two chargesheets against serving and retired naval officers, and some others, for allegedly sharing details of the ongoing modernisation project of India's Kilo Class submarines.

The Kilo Class comprises imported submarines that are being retrofitted.
India has lost a decade in modernising its submarine fleet, while China has marched ahead in its larger naval and more specific submarine capabilities.
How many submarines does India have?
Currently, India has 15 conventional diesel-electric submarines, classified as SSKs, and one nuclear ballistic submarine, classified as SSBN.
Of the SSKs, four are Shishumar Class, which were bought and then built in India in collaboration with the Germans starting 1980s; eight are Kilo Class or Sindhughosh Class bought from Russia (including erstwhile USSR) between 1984 and 2000; and three are Kalvari Class Scorpene submarines built at India's Mazagon Dock in partnership with France's Naval Group, earlier called DCNS.
The SSBN, INS Arihant, is a nuclear-powered ballistic missile submarine, built indigenously. A second SSBN, INS Arighat, an upgraded version of Arihant, is likely to be commissioned within the next few months.
Most of India's submarines are over 25 years old, and many are getting refitted.
History of India's submarine acquisition:
India got its first submarine, INS Kalvari of the Foxtrot Class, from the USSR in December 1967.
By 1969, it had four of those. During the 1971 war with Pakistan, the submarines were baptised into war. Between 1971-74, India bought four more Foxtrot Class submarines.
After 1974, India did not get new submarines for a decade. In 1981, it signed a contract to buy two Type 209 submarines from West Germany, while two others were to be assembled at Mazgaon Dock. These formed the Shishumar Class, the first of which was commissioned in 1986.
Parallelly, Russia offered India its Kilo Class submarines. India's first Kilo Class submarine was INS Sindhughosh in 1986.
Between 1986 and 1992, India got eight submarines from the USSR and the two from Germany.
In 1992 and 1994, two German submarines built in India were also commissioned, adding up to 12 new submarines in eight years from 1986.
India bought two more Kilo Class submarines from Russia in 1999 and 2000, taking the total submarine fleet to around 20.
Soon after, the older Foxtrots started getting decommissioned. Of the ten Kilo Class submarines, INS Sindhurakshak sank off Mumbai after explosions caused by fire. Last year India gifted INS Sindhuvir to Myanmar.
Why have there been delays in modernisation?
The 30-year plan (2000-30) for indigenous submarine construction, approved by the Cabinet Committee on Security in 1999, envisaged two production lines of six submarines each, built in India in partnership with a foreign Original Equipment Manufacturer (OEM). The projects were called P-75 and P-75I.
The 30-year plan anticipated that India would get the 12 new submarines by 2012-15. Subsequently, India would make 12 of its own by 2030, taking the fleet size to 24, with the older submarines getting decommissioned.
What are the current projects underway?
Of the six being built, P-75 has delivered three Kalvari Class Scorpene submarines so far. P-75I is yet to take off; the first Request for Information was issued in 2008, then again in 2010, and the Request for Proposal was finally issued in July 2021.
The project will be India's first under the Strategic Partnership Model, which came up in 2015. The government will give the contract to an Indian Strategic Partner, which will then partner with a foreign OEM.
India need it more submarines for its own maritime security. Chinese are going to be positioning a lot more ships and submarines in the Indian Ocean in the coming years.
India is among six nations that have SSNs, alongside the US, the UK, Russia, France and China.
India got its first SSN in 1987 from the Soviet Navy, which it rechristened INS Chakra, which was decommissioned in 1991. In 2012, India got another Russian SSN on a ten-year lease, called INS Chakra 2, which has since been returned to Russia.
Financial Inclusion
The Hindu
GS 3: Economy
Context:
India is now ahead of China in financial inclusion metrics, with mobile and Internet banking transactions rising to 13,615 per 1,000 adults in 2020 from 183 in 2015 and the number of bank branches inching up to 14.7 per 1 lakh adults in 2020 from 13.6 in 2015, which is higher than in Germany, China and South Africa, as per a report.
About:
States with higher financial inclusion / more bank accounts have also seen a perceptible decline in crime along with a meaningful drop in consumption of alcohol and tobaccos.
Under the no-frills accounts scheme, the number of persons with deposit accounts at banks has significantly increased, becoming comparable with emerging economy peers and even some of the advanced economies.
In the use of digital payments also, there has been noteworthy progress.
The number of no-frills bank accounts opened has reached 43.7 crore with ₹1.46 lakh crore in deposits as of October 20, 2021.
Of these, almost two-thirds are operational in rural and semi-urban areas and more than 78% of these accounts are with state-owned banks, 18.2% with regional rural banks, and 3% are opened by private sector banks.
The number of banking outlets in villages / banking correspondent (BCs) had risen from 34,174 in March 2010 to 12.4 lakh in December 2020.
Global Fuel Consumption
Down to earth
GS 3: Environment and Conservation
Context:
According to International Energy Agency's (IEA) Global Fuel Economy Initiative (GFEI) update, the global goal to halve the fuel consumption of new light-duty vehicles by 2030 from 2005 levels is stalling.
About:
The average rated fuel consumption of new light-duty vehicles fell by only 0.9% between 2017 and 2019. This is far smaller than the 1.8% annual average reduction between 2010 and 2015.
Fuel economy measures the distance a vehicle can travel per unit of a particular fuel, such as kilometre per litre and is a key indicator of greenhouse gas and pollutant emissions from the use of cars.
The three major car markets — China, the European Union and the United States, accounted for 60% of global sales of light-duty vehicles in 2019, which totalled 90 million, down 7% from 2017.
According to the report, total improvements are lower than the 2.8% yearly fuel economy improvements needed to meet the target.
A number of factors were responsible for the slowing pace of improvement between 2017 and 2019. These included:
Stagnating fuel economy standards in the US and the EU up to 2019
The rising market share of SUVs, which can use almost one-third more fuel than a medium-sized car
The rising cost of squeezing out further efficiency gains from mature technologies
The slow adoption of electric cars to compensate for larger vehicles
The report also included a 'well to wheel' analysis incurred in supplying fuel and operating the vehicle.
For internal combustion engine cars, most emissions occur at their tailpipe ('tank to wheel'), while less than 20% of overall emissions are related to the production of their fuels ('well to tank').
By contrast, for battery electric and fuel cell electric vehicles, almost all the emissions are incurred in producing and delivering the electricity or hydrogen on which they run.
According to the report, battery electric vehicles had the lowest emissions in 2019, followed by plug-in hybrids and hydrogen fuel cell electric vehicles. Hybrid vehicles have the lowest well-to-wheel emissions among vehicles with internal combustion engines using gasoline, diesel or compressed natural gas.
Fuel consumption should fall 4.3% per year on average from 2019 to 2030, to halve the fuel consumption of new light-duty vehicles. This is nearly triple the average annual pace of improvement since 2005.
Such a transformation in fuel consumption trends can only be achieved through stronger policies that increase the market shares of efficient electric cars and global adoption of efficient technologies in internal combustion engines.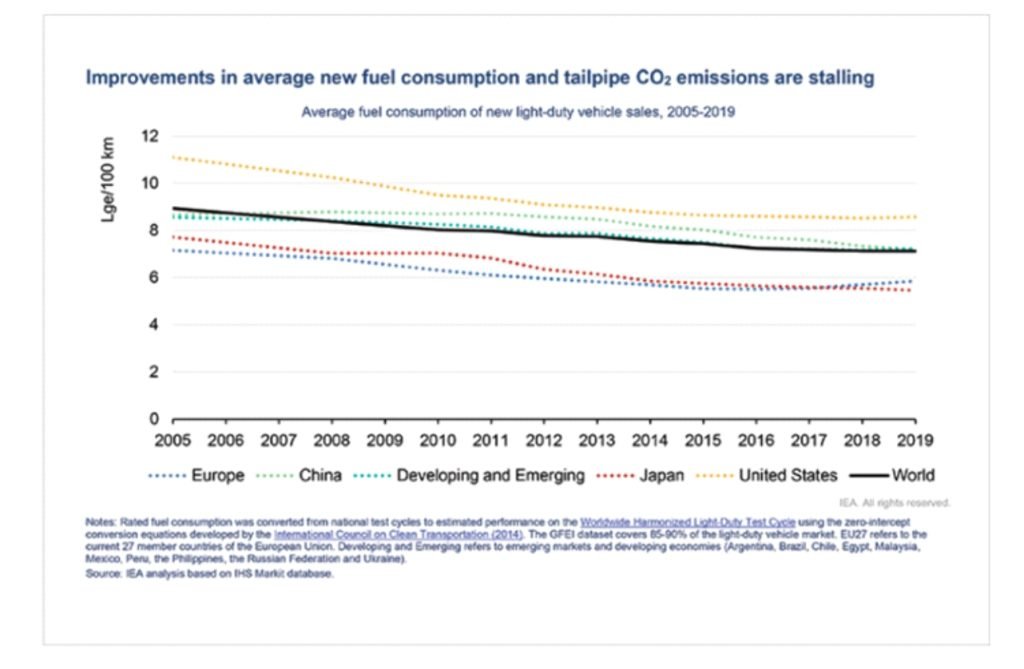 Srinagar as 'Creative City'
The Hindu
Prelims Fact
Context:
The United Nations Educational, Scientific and Cultural Organization (UNESCO) has picked up Srinagar among 49 cities as part of the creative city network under the Crafts and Folk Arts category.
About:
The process of nomination of Srinagar under the UNESCO 'Creative City Network' was undertaken and funded under the World Bank-funded Jhelum Tawi Flood Recovery Project. This is the recognition of the historical crafts and arts of the city.
The inclusion is likely to pave way for the city to represent its handicrafts on the global stage through UNESCO.
The network involves folk art, media, film, literature, design, gastronomy and media arts.
Srinagar was among one more city from India competing for the coveted recognition this year. The dossier for its nomination was filed first in 2019 and again in 2021.
Only Jaipur (Crafts and Folk Arts) in 2015, Varanasi and Chennai (Creative city of Music) in 2015 and 2017 respectively have so far been recognised as members of the UNESCO Creative Cities Network (UCCN) for creative cities.