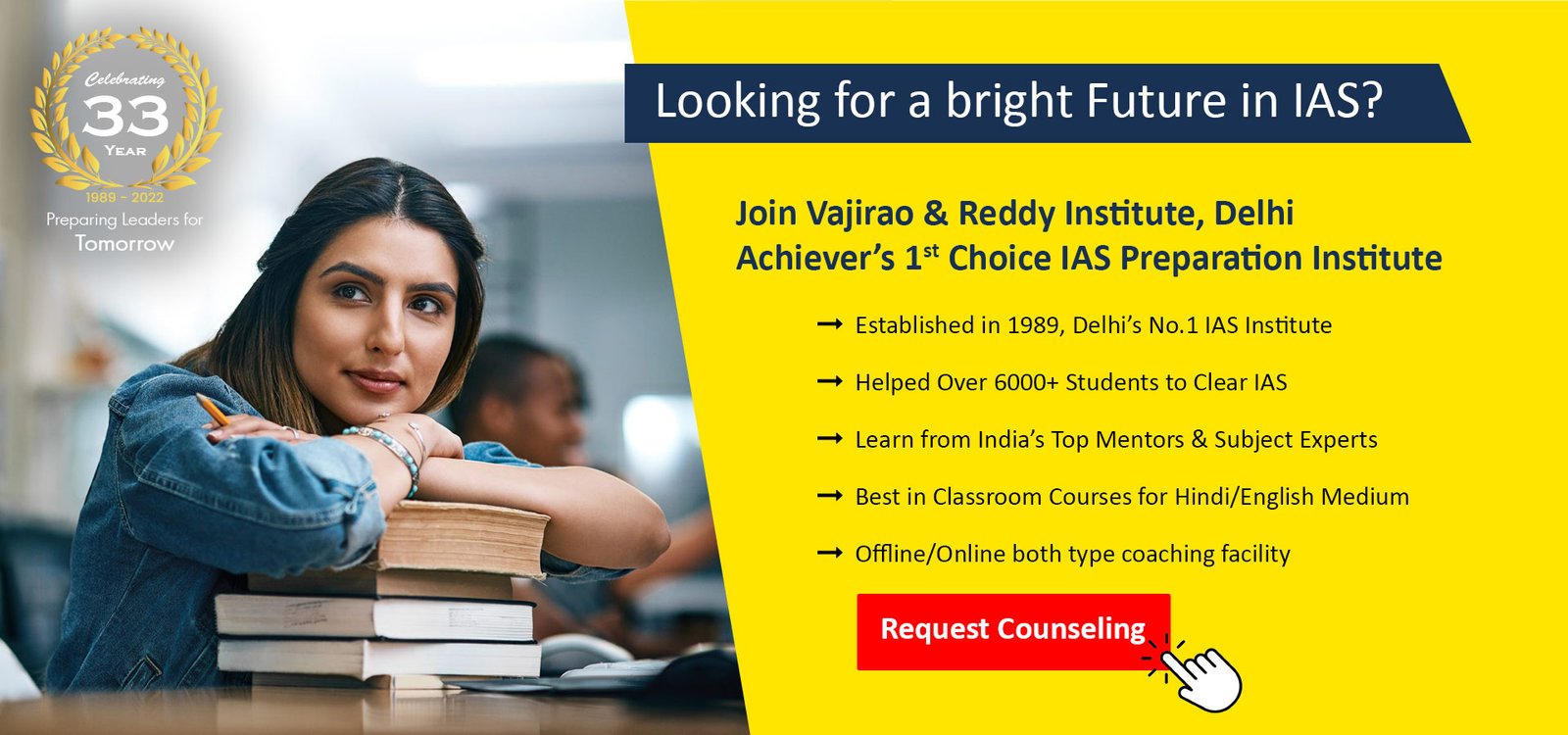 banner1-IAS COaching in India
India's Top IAS Institute & Best IAS Coaching in Delhi
Vajirao IAS is India's most famous Best IAS Coaching & Top UPSC Coaching Institute in India. Vajirao IAS has a well-known name and it's considered as the best institute for IAS in Delhi. The institute aims to keep the competitive atmosphere among the students. The institute focuses on the growth of each student and gives personal guidance to its students. Its Faculties are highly educated and well experienced. If you are looking for a best IAS Coaching in Delhi or India, then join Vajirao IAS.
About Vajirao IAS: The Best IAS Coaching in Delhi
Established in 1989, Vajirao IAS is the Best IAS Coaching in Delhi offering high quality education services for UPSC Civil Services exams preparation. We provide complete Civil Services Exam preparation including all three levels – UPSC Preliminary & Mains Examinations and Personality Test.
Vajirao IAS help our aspirants from beginning to final-stage execution, We implement your entire UPSC Exam preparation strategy. We provide best courses according to UPSC aspirants needs and requirements to Enhance their skills to clear IAS Examinations. We are specialize in Classroom Course, Weekend Batches, Postal Course (Study Material), Test Series and Mock Interview programs. All these courses are taught by India's highly experienced faculty in the region.
We believe in the best, hence, being an institute of excellence we provide the best classes for IAS preparation in Delhi region.
Courses offered for UPSC/IAS Coaching in Delhi
We offers Best IAS Coaching in Delhi and Online IAS Coaching for English/Hindi medium aspirants. All our courses are available in Online and Offline modes as per availability. Our classroom coaching is conducted only at Shakti Nagar, near Delhi University, New Delhi-110007.
Planning to prepare for UPSC Examinations? Admissions are recently open for Academic Session 2022-2023. To know about details of the new batch, fee structure, online registration, and admission at our Delhi center. Ask Now
Useful Resources for UPSC Civil Services Exam (CSE)
What sets Vajirao IAS apart from other IAS Coaching Centres is our dedication to incrementally enhancing every day. Choosing us means getting latest updates from the top IAS coaching of India who know what you have to need to face upcoming challenges in UPSC-Civil Services examinations.
Beginner Guide
Are you a beginner or thinking How should you start UPSC exam preparation?
Click here to learn
Book List for Examination
Here is the list of important books that is sure to help you with an exhaustive preparation of UPSC.
View complete book list
Syllabus of UPSC Exams
Get latest Syllabus for UPSC CSE Prelims & Mains exam. Download syllabus PDF in Hindi & English.
Download Syllabus
Daily Current Affairs
Read daily Current affairs updates on happenings of national and international to keep you update.
Read Current Affairs
Free MCQ Test
Join our Free MCQs Tests on a daily basis to enhance your skills for upcoming challenges.
Practice Test Now
Video Resources
Watch free UPSC preparation video and get a glimpse of some of best educational to prepare for IAS.
Start Watching
IAS Coaching in Delhi FaQ
Why Vajirao coaching is best for IAS in Delhi?
While searching which coaching is best for IAS in Delhi? students come across heaps of institutes that assure great results. Among all Best IAS Coaching Institutes in Delhi, Vajirao IAS leads the road. This is considered to be the best IAS coaching Institute in Delhi With Best Civil Services Examination Result in UPSC CSE 2020.
What are the courses offered by Vajirao IAS for UPSC preparation?
Vajirao & Reddy provides complete Civil Services exams preparation at all three levels with it's most popular UPSC-IAS exam courses. To help the students to shine bright and score well in UPSC Civil Services paper, the team of Vajirao IAS comes with Delhi's best faculty to assist our students in each way possible. All these UPSC-IAS exam courses are carefully created after researching and understanding the the demand of IAS aspirants.
What is the Fees for IAS Coaching in Delhi?
IAS Course fees and Fees Structure for IAS Coaching varies from one IAS Coaching Centers to another. However, any good IAS Coaching Institute charges a fee between Rs. 1,00,000/- to Rs. 2,35,000/- for UPSC Exam preparation courses.

While Vajirao IAS offers the most affordable Fees Structure for IAS Coaching in Delhi. It's IAS Coaching in Delhi Fees starts from Rs. 38,000. Click here to see in details.