Current Affairs (12th April 2021)
Vaccine Passports
Context:
With accelerating COVID-19 vaccinations, attention is now turning to tools for people to prove that they have been inoculated and potentially bypass the suffocating restrictions used to fight the pandemic.
Governments around the world are exploring the potential use of vaccine passports as a way of reopening the economy by identifying those protected against the coronavirus.
It met some resistance over privacy and equity concerns, several types of coronavirus vaccination records, sometimes called "vaccine passports," already exist, in paper and digital form.
About:
Hundreds of airlines, governments and other organizations are experimenting with new, electronic versions, and the number grows daily, although so far their use has been very limited.
Vaccine passports use digital tools and this electronic verification will soon become commonplace, particularly for international air travel, but also for admission to crowded spaces like theaters.
What is a "vaccine passport?"
An electronic record of vaccination, possibly in the form of a QR code, that is easily accessible through a smartphone or possibly stored on the device, though it could also be printed out.
Documentation is something like the physical card(fairly vulnerable to forgery) created by the Centers for Disease Control and Prevention and usually given to people when they receive their first COVID-19 shot in the United States, or the World Health Organization's "yellow card," used for decades by travelers to show inoculation against diseases like yellow fever.
The tool might have to address several variables: It is unclear how long inoculation lasts, there can be bad batches and the emergence of new variants of the virus are likely to require new vaccines. So in the long run, an electronic record might need to show which specific vaccine a person received, from which batch and when.
How would it be used?
In the short run, the clearest application may be in international travel, and the reason is evident at any major airport: Passenger volume is at a fraction of pre-pandemic levels, yet there are enormous lines at airline counters and passport control.
Many countries already require proof of a recent, negative coronavirus test for entry. So far, that documentation has existed almost entirely on paper or on a passenger's phone, and must be confirmed at the airport manually.
As travel restrictions ease, volume will increase, and many nations are expected to begin requiring proof of vaccination (or prior coronavirus infection) to enter, or just to skip the quarantine requirement. More passengers and more documentation requirements will make processing even more unwieldy.
No major country has publicly floated vaccine verification for domestic travel. But some governments and businesses already require proof of a negative coronavirus test for entry to certain crowded locations, and a few have started demanding proof of vaccination, increasing the desire for an electronic alternative.
Obstacles and objections:
Many of the objections that have been raised are about privacy, but people developing the systems say those can be addressed.
The major difficulty in implementation will be the lack of uniformity across jurisdictions in requirement and issuance of proofs of vaccination.
The World Health Organisation (WHO) is against the introduction of Covid-19 vaccination proofs as a requirement for international travel.
Dolphin
Context:
The population of dolphins in Chilika, India's largest brackish water lake, and along the Odisha coast has doubled this year compared with last year.
The wildlife wing of the State Forest and Environment Department released the final data on the dolphin census conducted in January and February 2021, indicating a spectacular growth in numbers.
About:
The population estimation exercise for dolphins and other cetacean species covered almost the entire coast of Odisha.
Three species were recorded during the census, with 544 Irrawaddy, bottle-nose and humpback dolphins sighted this year, compared with 233 last year.
Sizeable growth in the population of endangered Irrawaddy dolphins is witnessed, which are mostly found in Chilika lake, jumping from 146 in 2020 to 162 this year.
Apart from Chilika, 39 Irrawaddy dolphins were sighted in the Rajnagar mangrove division, though their number has come down from 60 in 2020.
The highest growth has been noticed in the case of humpback dolphins. Only two humpbacks were sighted in the Rajnagar mangrove in 2020. In 2021, however, this population grew astronomically to 281.
The number of bottle-nose dolphins grew from 23 in 2020 to 54 this year.
The rise in the Irrawaddy [dolphin] population in Chilika can be attributed to the eviction of illegal fish enclosures. After thousands of hectares of Chilika water were made encroachment-free, Irrawaddy dolphins found unobstructed area for movement.
Moreover, due to the COVID-19 lockdown last year, there were comparatively fewer tourist boats on Chilika lake, which made it conducive for dolphins to move from one part [of the lake] to another.
Gangetic Dolphin
·         The Ganges River Dolphin was officially discovered in 1801.
·         Ganges river dolphins live in the Ganges-Brahmaputra-Meghna and Karnaphuli-Sangu river systems of Nepal, India, and Bangladesh.
Doomsday Glacier
Context:
The melting of Antarctica's Thwaites Glacier – also called the "Doomsday Glacier"– has long been a cause of concern because of its high potential of speeding up the global sea level rise happening due to climate change.
What is the glacier and why is it important?
Called the Thwaites Glacier, it is 120 km wide at its broadest, fast-moving, and melting fast over the years.
Because of its size (1.9 lakh square km), it contains enough water to raise the world sea level by more than half a metre.
Studies have found the amount of ice flowing out of it has nearly doubled over the past 30 years.
Today, Thwaites's melting already contributes 4% to global sea level rise each year.
It is estimated that it would collapse into the sea in 200-900 years. Thwaites is important for Antarctica as it slows the ice behind it from freely flowing into the ocean. Because of the risk it faces — and poses — Thwaites is often called the Doomsday Glacier.
The grounding line is the place below a glacier at which the ice transitions between resting fully on bedrock and floating on the ocean as an ice shelf. The location of the line is a pointer to the rate of retreat of a glacier.
When glaciers melt and lose weight, they float off the land where they used to be situated.
When this happens, the grounding line retreats. That exposes more of a glacier's underside to seawater, increasing the likelihood it will melt faster.
This results in the glacier speeding up, stretching out, and thinning, causing the grounding line to retreat ever further.
LITHIUM-ION BATTERIES
Context
Researchers from IIT Guwahati have developed a technique to improve the performance of rechargeable lithium-ion batteries.
About:
The 2019 Nobel Prize in Chemistry was jointly awarded to Stanley Whittingham, John Goodenough and Akira Yoshino for work that led to the development of lithium-ion batteries.
These batteries are used in most mobile phones, smartphones, tablets, laptops and power banks, among other devices.
Today, most Electrical Vehicles (EV) use Li-ion batteries as well, but are slowly reaching their theoretical limits of being able to provide roughly up to 300-watt hour per kilogram of energy.
These batteries can also be used to store solar and wind power, which means that with their widespread use it may even be possible to live in a fuel free society.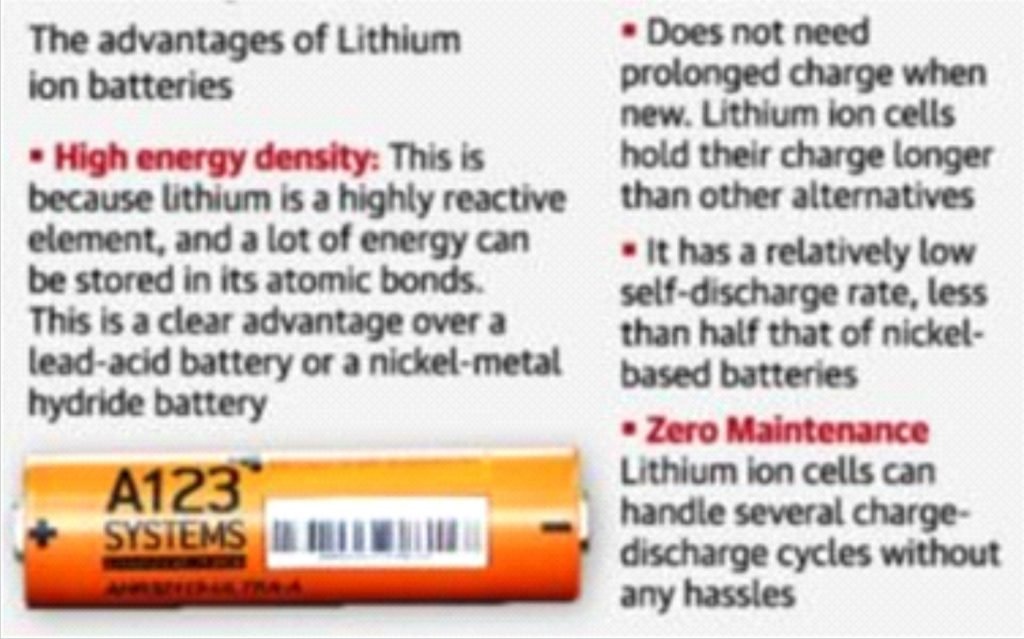 Disadvantages
Susceptibility to overheating and their being prone to damage at high voltages since they are made with flammable and combustible materials.
Such batteries also start losing their capacity over time.
Alternatives to Li-ion batteries:
In January 2020, researchers from Australia claimed that they developed the world's most efficient lithium-sulfur (Li-S) battery, capable of powering a smartphone for five continuous days — the equivalent of an electric car being able to drive a distance of over 1,000 km.
Li-S batteries are generally considered the successors of Li-ion batteries because of their lower cost of production, energy efficiency and improved safety. Their cost of production is lower because sulfur is abundantly available.
ADVANCED ANTIQUITIES MANAGEMENT SYSTEM (AAMS)
Context:
The Directorate of Archives and Archaeology (DAA) of the Goa government inaugurated the Advanced Antiquities Management System on March 30 that it claimed was the first such system in the country for storage of antiquities.
About:
The system that catalogues 83 antiquities at present is aimed at providing quick information about an antiquity linked to the software, saving storage space and ensuring improved preservation of the objects of historical significance.
AAMSis a software-driven automated storage used for the storage of various objects.
So far it has been used for storage of industrial equipment but the decision of Goa's DAA to use it for storing valuable antiquities is the first such in the country.
The AAMS will ensure safety of antiquities, clean storage space, access control and data management and enhance utilisation of space.
The AAMS is placed at Goa's DAA in Panaji.