Digital lending
IN NEWS:
The Reserve Bank of India (RBI) has constituted a working group on digital lending — including online platforms and mobile apps — to study all aspects of digital lending activities in the regulated financial sector as well as by unregulated players.
The working group consists of both internal and external members.  This aims to ensure that an appropriate regulatory approach is put in place.
ABOUT:
The working group will evaluate digital lending activities and assess the penetration and standards of outsourced digital lending activities in RBI regulated entities; identify the risks posed by unregulated digital lending to financial stability, regulated entities and consumers; and suggest regulatory changes to promote orderly growth of digital lending.
It will also recommend measures for expansion of specific regulatory or statutory perimeter and suggest the role of various regulatory and government agencies. It will also recommend a robust fair practices code for digital lending players.
DIGITAL LENDING ACTIVITIES
Digital lending has the potential to make access to financial products and services more fair, efficient and inclusive.
FinTech-led innovation is now at the core of the design, pricing and delivery of financial products and services. While penetration of digital methods in the financial sector is a welcome development, the benefits and certain downside risks are often interwoven in such endeavours.
A balanced approach needs to be followed so that the regulatory framework supports innovation while ensuring data security, privacy, confidentiality and consumer protection
Decriminalising adultery
IN NEWS:
The Centre has sought a clarification from the Supreme Court to the effect that the 2018 order decriminalising adultery would apply only to civilians and not defence personnel because not prosecuting soldiers for adultery could cause "instability" in the armed forces.
ABOUT:
Maintaining that "honour is the sine quo non of the services," and adultery must remain a valid ground to prosecute defence personnel under army laws.
"Adultery can be defined as an 'unbecoming act' or punishable under "good order and discipline" rule under the army act. Such officers can be court martialed and cashiered.
The armed forces required a completely different standard of discipline and that, therefore, the army act and other pertinent laws must be treated as outside the scope of the 2018 judgment.
Personnel of the Army, Navy and the Air Force were a "distinct class". They were governed by special legislation, the Army Act, the Navy Act and the Air Force Act.
The special laws imposed restrictions on the fundamental rights of the personnel, who function in peculiar situation requiring utmost discipline.
The three laws were protected by Article 33 of the Constitution, which allowed the government to modify the fundamental rights of the armed forces personnel. The judgment of 2018 created 'instability'.
It allowed a personnel charged with carrying on an adulterous or illicit relationship to take cover under the judgment.
PREVIOUS JUDGEMENT
In September 2018, a five-judge constitution bench struck down Section 497 of the Indian Penal Code, declaring it to be unconstitutional and violative of right to equality of women in treating them as "chattel" (an item of property) and inferior to their husbands.
Section 497 made adultery an offence only with respect to a man, who has a relationship with wife of someone else.
The wife was considered neither adulterous nor an abettor in law, while the man could be jailed for up to five years. In that case, the Centre defended the law, saying it protected sanctity of marriages.
83 Tejas fighters
IN NEWS:
The Cabinet Committee on Security (CCS) cleared a deal worth nearly Rs 48,000 crore for the acquisition of 83 Tejas Light Combat Aircraft for the Indian Air Force
TEJAS Mk-1A MULTIROLE LIGHT FIGHTERS:
Designed by the Aeronautical Development Agency under the Department of Defence Research and Development
Manufactured by state-owned Hindustan Aeronautics Limited (HAL)
It will be an improvement over the Mk-1 version.
The indigenous content of the aircraft is 50 per cent and will be enhanced to 60 per cent.
SIGNIFICANCE:
It "will be a game changer for self-reliance in the Indian defence manufacturing".
It is the largest indigenous defence procurement as part of measures to strengthen the armed forces amid a standoff with China on the Line of Actual Control and tensions with Pakistan over its terror infrastructure.
LCA-Tejas is going to be the backbone of the IAF fighter fleet in years to come and it "incorporates a large number of new technologies, many of which were never attempted in India.
LCA-Tejas programme would act as a catalyst for transforming the Indian aerospace manufacturing ecosystem into a vibrant Atmanirbhar-self-sustaining ecosystem.
Special Marriage Act
IN NEWS:
The Allahabad high court ruled that the mandatory publishing of notice for interfaith marriages under the Speical Marriages Act, 1954 will now be optional for the parties to the intended marriage to make a request in writing to the Marriage Officer to publish or not to publish a notice under Section 6 and follow the procedure of objections as prescribed under the Special Marriage Act of 1954.
ABOUT:
Couples seeking to solemnise their marriage under the Actcan choose not to publish the mandatory 30-day notice of their intention to marry. Before that, in a judgment, the HC also removed hindrances to inter-faith marriages.

Section 5 of the Special Marriage Act: The legislation that allows solemnisation of marriages irrespective of the religion of the couple, requires parties to give a 30-day public notice of their intention to marry. The public notice is displayed at the office of the marriage officer, inviting potential objections to the marriage.

Uttar Pradesh Prohibition of Unlawful Conversion of Religion Ordinance, 2020, which declares conversion of religion by marriage to be unlawful, mandates a 60-day notice to the District Magistrate and also requires the Magistrate to conduct a police inquiry to ascertain the real intention behind the conversion.
JUDGEMENT
By interpreting Sections 6 and 7 read with Section 46 which contains the procedure of publication of notice and inviting objections to the intended marriage in Act of 1954, it has to be such that would uphold the fundamental rights of liberty and privacy, including within its sphere freedom to choose for marriage without interference from state and non-state actors, of the persons concerned and not violate the same.
In case such individuals applying to solemnize their marriage under the Act of 1954 themselves by their free choice desire that they would like to have more information about their counterparts, they can definitely opt for publication of notice under Section 6 and further procedure with regard to objections to be followed.
Such publication of notice and further procedure would not be violative of their fundamental rights as they adopt the same of their free will.
As the Special Marriage Act is a central legislation, couples across the country seeking to marry under the law would benefit from the liberal reading of the provisions by the Allahabad High Court ruling.
The Special Marriage Act to provide a framework for inter-caste and inter-religious marriages was originally enacted in 1872. Despite changes and versions, the 1954 law retained the Victorian-era protectionist provisions.
WHY IT IS REQUIRED?
Changing social circumstances and progress in laws and proposed by the Law Commission
It would be cruel and unethical to force the present generation living with its current needs and expectations to follow the customs and traditions adopted by a generation living nearly 150 years back for its social needs and circumstances, which violates fundamental rights recognized by the courts of the day.
It is the duty of court to revisit the interpretation of the procedure under challenge as provided in the Act of 1954.
First rice, now wheat: India
IN NEWS:
India will become a major exporter of wheat after rice due to increasing international prices from Chinese stockpiling and ultra-low interest rate money increasingly finding its way into agri-commodity markets.
ABOUT:
The US Department of Agriculture (USDA) increased its forecast of Indian wheat exports for 2020-21 (July-June) to 1.8 million tonnes (mt), as against its earlier estimate of one mt. That would be the highest ever in the last six years.
Reason: Rising global prices opened up possibilities for Indian exports to nearby markets, especially Bangladesh that buys mostly from Russia. Bangladesh "is beginning to shift its purchases towards India". Traders, however, believe that Indian wheat is still not competitive at the government's minimum support price (MSP) of Rs 19,750 per tonne.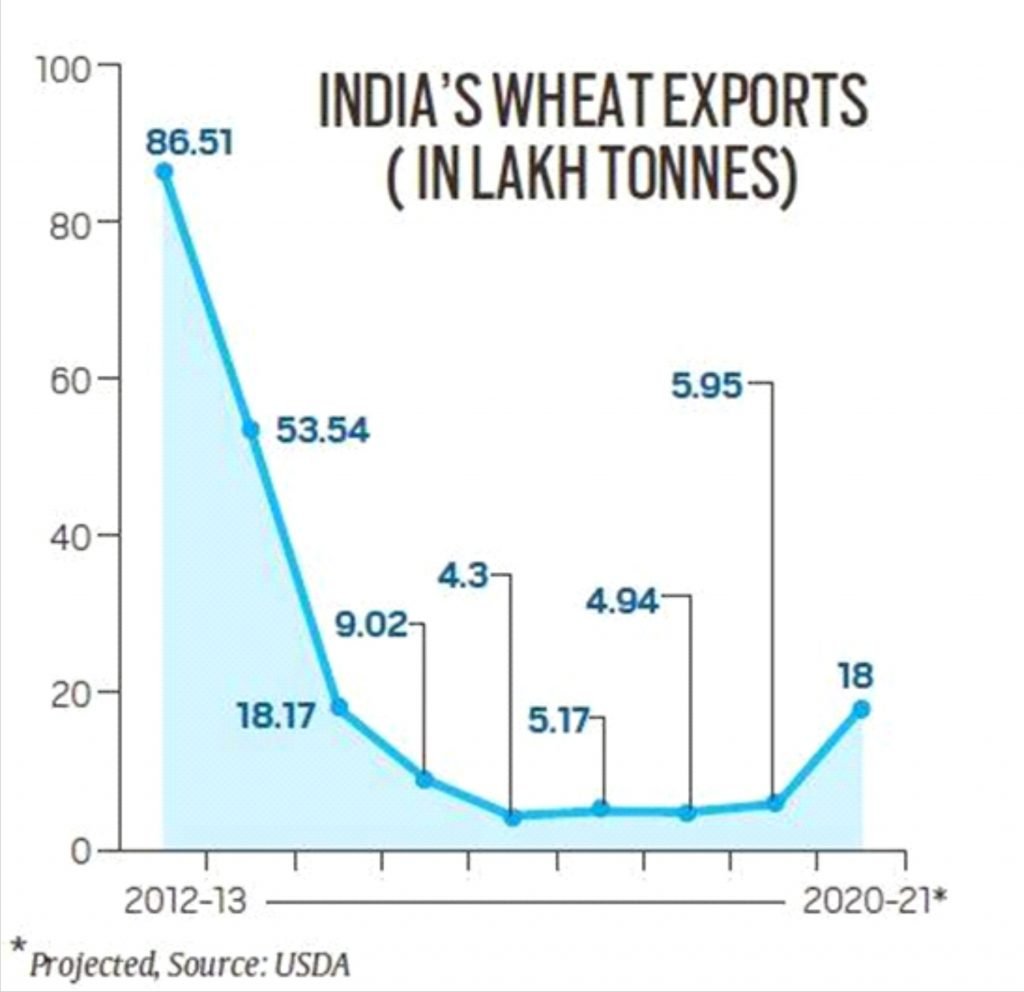 The above price is higher than the major exporters such as Australia, France, US, Russia and Canada are quoting for March-April shipments. In all, given our MSP, India is $25 or so per tonne costlier today.
This can be overcome if wheat is sourced at below MSP from Uttar Pradesh, Bihar, Gujarat and Maharashtra, where not much government procurement happens.
The new crop arriving in these markets from March onwards and this wheat can be exported by rail rakes to Bangladesh or shipped to the Middle East (UAE, Oman and Bahrain) and Southeast Asia (Indonesia, Vietnam and Malaysia).
The USDA report, meanwhile, has also estimated India's rice imports to have hit a record. The country's closest competitors – Thailand and Vietnam – have seen their exports during this period fall. Both have had drought-reduced crops, with Vietnam recently even contracting 70,000 tonnes of Indian rice for the first time, following China in December 2020.
USDA has projected India's rice imports in 2021 at 14 mt. Bangladesh, which imported just 80,000 tonnes in 2020, is expected to buy one mt this year. The beneficiary of it will again be India.
Despite concerns about the availability of shipping containers, which is impacting rice exports from Vietnam and Thailand, India can export to Bangladesh via rail and truck.
All this export demand isn't bad at a time when India's own domestic production of rice and wheat touched an all-time-high in 2019-20. Government agencies also procured a record amount of rice and wheat. This year, too, similar bumper crops are likely.
The key driver of global price turnaround seems to be China. USDA data has forecast record Chinese imports of oilseeds (mainly soyabean) and coarse grain (maize and sorghum) in 2020-21 (October-September), apart from end-year stocks of rice and wheat. The reasons for its building strategic stockpiles of everything aren't as fully clear as their effect on international prices.