Current Affairs (25th February 2021)
Indradhanush 3.0
CONTEXT:
The States and Union Territories (UTs) have rolled out the Intensified Mission Indradhanush (IMI) 3.0 scheme to cover children and pregnant women who missed routine immunisation during the COVID-19 pandemic.
According to Health Ministry, more than 29,000 children and 5,000 pregnant women were covered on the first day.
ROUTINE IMMUNISATION:
IMI 3.0 aimed to accelerate the full immunisation of children and pregnant women through a mission mode intervention.
The campaign is scheduled to have two rounds of immunisation lasting 15 days (excluding routine immunisation and holidays).
It is being conducted in 250 pre-identified districts/urban areas across 29 States/UTs.
REMOTE AREAS:
Beneficiaries from migration areas and remote areas would be targeted as they may have missed their vaccine doses during the pandemic.
As per the guidelines released for IMI 3.0, the districts have been classified to reflect 313 low risk, 152 medium risk and 250 high risk districts.
According to Health Ministry, adherence to COVID-appropriate behaviour (CAB) during immunisation activities has been strongly emphasised.
The States have been asked to follow a "staggered approach" to avoid crowding at the session sites and even plan break-up sessions if a staggered approach is not effective.
The sessions have also been planned in such a way that not more than 10 beneficiaries are present at the session site at one given point in time.
IMMUNIZATION IN INDIA:
It was introduced in 1978 as 'Expanded Programme of Immunization' (EPI) by the Ministry of Health and Family Welfare.
In 1985, the programme was modified as 'Universal Immunization Programme' (UIP) to be implemented in phased manner to cover all districts in the country by 1989-90 with the one of largest health programme in the world.
Despite being operational for many years, UIP has been able to fully immunize only 65% children in the first year of their life.
Through UIP, Government of India is providing vaccination free of cost against vaccine preventable diseases include diphtheria, pertussis, tetanus, polio, measles, severe form of childhood tuberculosis, hepatitis B, meningitis and pneumonia (Hemophilus influenza type B infections), Japanese encephalitis (JE) in JE endemic districts with introduction of newer vaccines such as rotavirus vaccine, IPV, adult JE vaccine, pneumococcal conjugate vaccine (PCV)  and measles-rubella (MR) vaccine in UIP/national immunization programme.
MISSION INDRADHANUSH:
To strengthen and re-energize the programme and achieve full immunization coverage for all children and pregnant women at a rapid pace, the Government of India launched "Mission Indradhanush" in December 2014.
Goal : to ensure full immunization with all available vaccines for children up to two years of age and pregnant women.
IMI:
To further intensify the immunization programme, Prime Minister launched the Intensified Mission Indradhanush (IMI) on October 8, 2017.
Aim: to reach each and every child up to two years of age and all those pregnant women who have been left uncovered under the routine immunisation programme/UIP.
Covered low performing areas in the selected districts (high priority districts) and urban areas.
Special attention was given to unserved/low coverage pockets in sub-centre and urban slums with migratory population.
The focus was also on the urban settlements and cities identified under National Urban Health Mission (NUHM).
Facebook to end Australia news blackout
ABOUT:
Facebook would lift a contentious ban on Australian news and pay local media companies for content, after a last-gasp deal on pending landmark legislation.
Australia announced a face-saving compromise that will see Google and Facebook plunge tens of millions of dollars into the struggling local news sector.
In return the U.S. digital firms will, for now, avoid being subjected to mandatory payments that could cost them vastly more and create what they see as an alarming global precedent.
Facebook announced its first proposed deal with an Australian media company, Seven West, and was said to be pursuing commercial deals with other local news organisations.
The company is expected to use the content to launch a dedicated news product in Australia later this year.
CORE ISSUE BETWEEN TECH GIANTS AND REGULATORS:
While links to news may not be direct advertising money-spinners for Facebook or Google, both see the presence of news as an important aspect of audience engagement with their products.
Google and Facebook are two of the largest and most profitable companies in history – and each holds far more bargaining power than any news publisher. The news media bargaining code sets out to undo this imbalance.
The fight in Australia is in fact, centred on how much control these companies would be able to retain on their payout process — operational aspects such as deciding the quantum of payments for news feed sources, and having to reveal changes in their algorithm.
DEBATE IN INDIA:
According to a FICCI-EY report for 2020, there are 300 million users of online news sites, portals and aggregators in the country — making up approximately 46% of Internet users and 77% of smartphone users in India at the end of 2019.
With 282 million unique visitors, India is the second largest online news consuming nation after China.
In India, digital advertising spends in 2019 grew 24% year-on-year to Rs 27,900 crore and are expected to grow to Rs 51,340 crore by 2022.
A substantial discussion on the impact of intermediary platforms on the health of news media outlets is yet to begin in any meaningful way.
Trade partner in 2020
ABOUT:
China topped India's list of trading partners in 2020 despite high tension between the countries, showed provisional data from the Ministry of Commerce and Industry.
Its position at the top is not just a result of India's continued dependence on its electrical and nuclear machinery, but a spurt in shipments of products like iron and steel as well.
CUTTING CHINESE PRESENCE:
Despite a drop from the $85.47 billion traded between India and China from January to December 2019, total trade between the countries stood at $77.67 billion during the same period in 2020 — a year that saw a deadly clash between Indian and Chinese troops at Galwan Valley.
The skirmish sparked various measures by the government to cut Chinese presence in the country, including a ban of popular apps, termination of major infrastructural contracts and the approval of production-linked incentive schemes to reduce dependence on critical goods from the neighbour.
Electrical machinery and equipment, at $17.82 billion, and nuclear reactors, boilers, machinery and mechanical appliances, at $12.35 billion, continued to top the goods imported from China in 2020 — a sign of continued dependence as India works towards self-reliance in critical sectors.
At the same time, imports of these goods dropped by nearly 11 percent in the calendar year.
Meanwhile, Indian iron and steel saw a 319.14 percent jump in exports to China, with shipments touching $2.38 billion during January to December 2020. Iron and steel exports to China in 2019 were around $567 million.
WITH US:
India's trade with the US, its top trading partner in 2019, took a hit during the pandemic.
Total trade with the US in 2020, at $75.95 billion, lagged behind China.
India exported goods worth $49.06 billion to the US between January and December 2020, down from $53.82 billion the year before.
However, imports from the country took a bigger hit, dropping to $26.89 billion in 2020 from around $36.28 billion in 2019.
WHAT INDIA EXPORTS TO CHINA?
Cotton yarn
Iron ore
Organic chemicals
Mineral fuels
Plastic items
Fish
Salts
Electrical machinery
Iron and steel
Gems & Jewellery
ITEMS OF CHINESE EXPORTS TO INDIA:
Electrical machinery and equipment, organic chemicals, nuclear reactors, boilers, machinery, silk, mineral fuels, and oils.
Value added items also dominate Chinese exports to India, like machinery, specially electrical machinery, which forms about 36% of Chinese exports to India.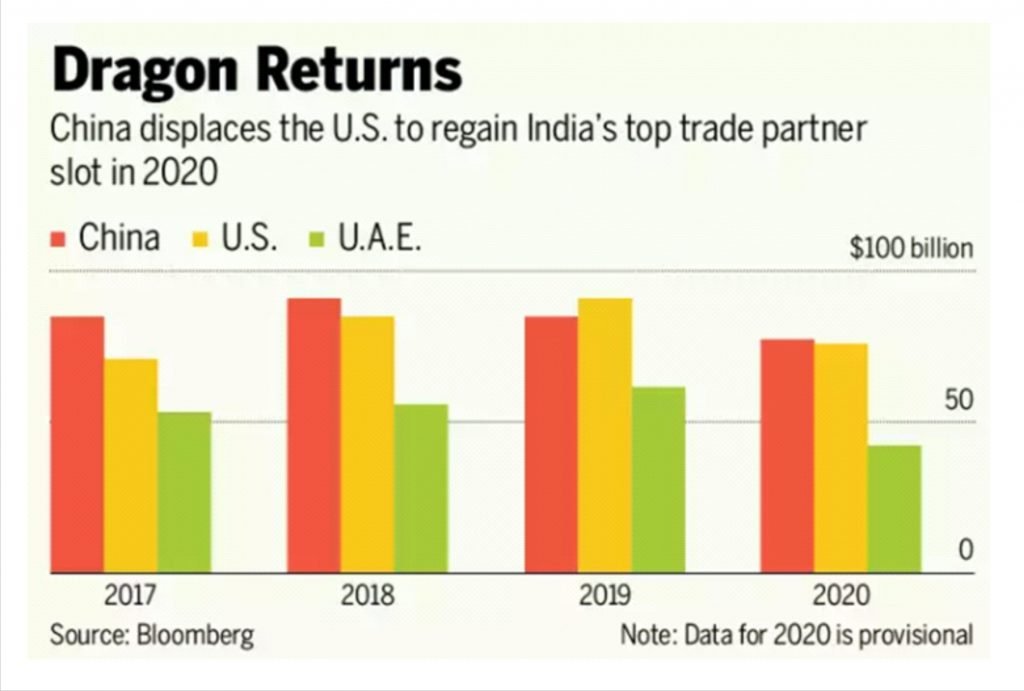 Washable adhesive and related products
ABOUT:
Scientists have developed a sticky mat which takes away dust from a contacting surface, ensuring a clean, hygienic, healthy, and refreshing atmosphere at our home, offices, hospitals, and laboratories as also smooth functioning of many expensive equipments.
The mat is a low-cost one and remains washable and usable over many cycles.
MAKE IN INDIA INITIATIVE:
Mat was developed with the support of Department of Science & Technology under Make in India initiative, it took inspiration from adhesive pad present at the feet of wall climbing animals, like house lizards.
The adhesive associated makes use of nanoscopic pyramidal bumps on its surface to attract dust particles towards it, thereby cleaning the sole of our shoes when we step on it.
When the adhesive gets completely covered with particulate matter, it is washed in a way that we wash our clothes.
At this, the surface gets back its ability to stick and remains usable through hundreds of such cycles.
USAGE:
The scientists have used a bottom-up approach of preparation of nano- to micro-patterned surface on elastomer over a large area, control of geometry of surface patterns by simple methods, washability, and reusability of the adhesive over many cycles for the development of this mat.
It has been validated, and an Indian patent application has been filed for the sticky mat. It is simple to prepare, easy to wash, environmentally benign, cost-effective, and can be a replacement for materials imported for the same purpose.
This mat can be used in ICU of Hospitals, clean rooms, facilities housing sophisticated equipment as a component of air filters.
The technology is important wherever cleanliness and hygiene is desired. The product is in 7 – 8 level of technology readiness level and is yet to be commercialised. A pilot plant is being built to make the material in a scale larger.