Global Economy to Expand by 4% in 2021
IN NEWS:
The World Bank highlighted in its January 2021 Global Economic Prospects that the global economy is expected to expand 4% in 2021 after shrinking 4.3% in 2020.
HIGHLIGHTS:
It also warned that rising COVID-19 infections and delays in vaccine distribution could limit the recovery to just 1.6% in 2021.
The World Bank showed the collapse in activity due to the coronavirus pandemic was slightly less severe than previously forecast, but the recovery was also more subdued and still subject to considerable downside risk.
With successful pandemic control and a faster vaccination process, global growth could accelerate to nearly 5%.
Shallower contractions in advanced economies and a more robust recovery in China helped avert a bigger collapse in overall global output, but disruptions were more acute in most other emerging market and developing economies.
Aggregate gross domestic product in emerging markets and developing economies – including China – is expected to grow 5% in 2021 after a contraction of 2.6% in 2020.
Excluding China, emerging market and developing economies were seen expanding 3.4% in 2021 after shrinking 5% in 2020.
Per capita incomes have dropped in 90% of emerging market and developing economies, tipping millions back into poverty, with reduced investor confidence, increasing unemployment and loss of education time seen dampening prospects for future poverty reduction.
The crisis also triggered a surge in debt levels among emerging market and developing economies, with government debt up by 9 percentage points of GDP – the largest one-year spike since the late 1980s.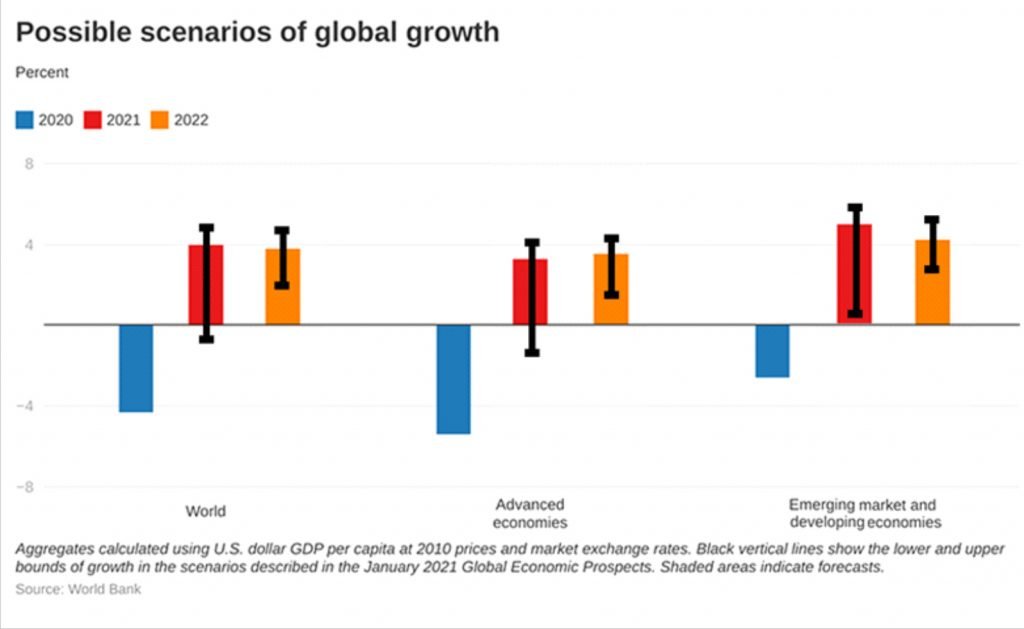 India lost $2.8 bn to Internet shutdowns
IN NEWS:
According to a report by the UK-based privacy and security research firm Top10VPN, India suffered the biggest economic impact in the world in 2020 due to Internet shutdowns, adding up to 8,927 hours and $2.8 billion losses.
HIGHLIGHTS OF THE REPORT:
Actual economic impact for India may be even higher than the $2.8 billion figure — which itself was double the combined losses on account of Internet shutdowns in 2019 for the next 20 countries in the list, with businesses in 2020 anyway hit due to the COVID-19 lockdown.
As in previous years, India continued to restrict Internet access more than any other country — over 75 times in 2020.
The majority of these short blackouts were highly targeted, affecting groups of villages or individual city districts, and so were not included in this report, which focuses on larger region-wide shutdowns.
The report made a separate mention of the extended curbs on Internet use in Kashmir, with suspension of services lasting from August 2019 to March 2020, and still availability of 2G access. It called it as "the longest Internet shutdown in a democracy".
While the economic impact due to Internet curbs surged in India in 2020, globally, at $4.01 billion, this came down by 50 per cent from 2019.
India witnessed restrictions in J&K which accounted for the highest share of Internet blackouts in the country, but localised shutdowns were also seen in regions in Arunachal Pradesh, and Meghalaya.
WHAT IS INTERNET SHUTDOWN?
The report defines an Internet shutdown as "an intentional disruption of Internet or electronic communications, rendering them inaccessible or effectively unusable, for a specific population or within a location, often to exert control over the flow of information".
Dependence on the Internet has increased and, therefore, when a shutdown happens, access to a number of essential services is restricted.
During lockdown in the wake of COVID-19 pandemic in India, people lost employment, lawyers could not attend hearings, people who depended on online pharma stores could not order medicines and there were students who couldn't attend online classes.
MONTHLY ECONOMIC REVIEW
IN NEWS:
According to the Finance Ministry in its Monthly Economic Review for December 2020, post-vaccination, the resumption in economic activity and increased mobility are expected to lead towards a path of economic recovery in the aftermath of the Covid-19 pandemic.
HIGHLIGHTS OF THE REPORT:
The approval of the vaccine and initiation of vaccination drives in countries gives strength to optimism on both health and economic fronts despite continuing surge in global cases.
Vaccine prospects are also expected to boost oil demand in the country.
The effective management of COVID-19 spread despite the festive season and onset of the winter season, combined with sustained improvement in high-frequency indicators and V-shaped recovery along with easing of lockdown restrictions distinguish Indian economy as one riding against the COVID-19 wave.
The liquidity situation remains comfortable as the accumulation of dollars along with the growth of currency in circulation are enhancing liquidity in the banking system despite the average daily net absorptions by the RBI rising in December 2020, compared to the preceding month.
Kochi-Mangaluru natural gas pipeline
IN NEWS:
Prime Minister inaugurated the 450-km Kochi-Koottanad-Mangaluru LNG (liquified natural gas) pipeline. Moreover, 10,000 more CNG (compressed natural gas) stations would be opened and several lakh PNG (piped natural gas) household connections will be given to make India a natural gas-based economy
It has been built by GAIL (India) Ltd
It has transportation capacity of 12 million standard cubic metres per day
It will carry natural gas from the liquefied natural gas (LNG) regassification terminal at Kochi to Mangaluru
Laying of the pipeline was an engineering challenge as the route of the pipeline necessitated it to cross water bodies at more than 100 locations. This was done through a special technique called horizontal directional drilling method.
The pipeline will supply environment friendly and affordable fuel to households, transportation sector and to commercial and industrial units across the districts along the pipeline.
"Toycathon"
IN NEWS:
The ministries of education; women and child development (WCD); textiles; commerce and industry; MSME; information and broadcasting; and the All India Council for Technical Education have jointly launched Toycathon-2021 — a hackathon for students, teachers, experts and startups to crowdsource ideas for developing innovative toys and games based on Indian culture and ethos.
ABOUT:
The launch of Toycathon is an endeavour by the government to create an ecosystem for the domestic toy industry and the local manufacturers, tapping the untapped resources and utilising their potential.
This Toycathon is aimed to conceptualize innovative toys based on the Indian value system which will inculcate the positive behaviour and good values among the children.
The Toycathon is based on nine themes — Indian culture, history, knowledge of India and ethos; learning, education and schooling; social and human values; occupations and specific fields; environment; divyang ; fitness and sport; out-of-the-box, creative and logical thinking and rediscovering traditional Indian toys.
The Toycathon will have three levels — junior, senior and startup.
Grand Renaissance Dam hydropower project
IN NEWS:
Recently, Ethiopia, Sudan and Egypt agreed to resume negotiations to resolve their decade-long complex dispute over the Grand Renaissance Dam hydropower project in the Horn of Africa.
Egypt and Sudan are concerned about the filling and the operation of the dam. Ethiopia continues to insist that the dam is required to meet the needs of its population and downstream water supplies will not be adversely affected.
WHAT IS THE DISPUTE ABOUT?
The Nile, which is Africa's longest river, has been at the center of a decade-long complex dispute involving Ethiopia, Sudan and Egypt that are dependent on the river's waters.
It passes through 11 countries. The current distribution of its waters is limited to only two — Egypt and Sudan — under the 1959 Nile Agreement.
The main waterways of the Nile run through Uganda, South Sudan, Sudan and Egypt, and its drainage basin runs through several countries in East Africa, including Ethiopia, the portion where Grand Renaissance Dam is being constructed.
The Nile River has two main tributaries. The White Nile originates from the Nile equatorial lakes region and the source of the Blue Nile is from the highlands in Ethiopia.
Grand Renaissance Dam hydropower project is 145-meter-tall (475-foot-tall) and Spearheaded by Ethiopia. When completed, it will be Africa's largest dam.
The construction of the dam was initiated in 2011 on the Blue Nile tributary of the river that runs across one part of Ethiopia.
The Nile is a necessary water source in the region and Egypt has consistently objected to the dam's construction, saying it will impact water flow.
WHY CAN THE DAM CAUSE CONFLICT?
Ethiopia: Dam would allow it to gain control of the flow of the river's waters. Ethiopia's goal is to secure electricity for its population and to sustain and develop its growing manufacturing industry. Ethiopia may be hoping to sell surplus electricity to neighbouring nations like Kenya, Sudan, Eritrea and South Sudan, which also suffer from electricity shortages, to generate some revenue.
Egypt: It lies further downstream and is concerned that Ethiopia's control over the water could result in lower water levels within its own borders. Egypt had strongly objected since 2019 When Ethiopia had announced that it planned on generating power using two turbines. Egypt proposed a longer timeline for the project over concerns that the water level of the Nile could dramatically drop as the reservoir fills with water in the initial stages.
Sudan: Its location between Egypt up north and Ethiopia down south has caused it to become an inadvertent party to this dispute. Sudan too is concerned that if Ethiopia were to gain control over the river, it would affect the water levels Sudan receives.