Snow leopard
Why in news :
A snow leopard has been sighted for the first time at a height of about 11,120 feet in the Darma valley in Uttarakhand's Pithoragarh district.
More about Snow Leopard :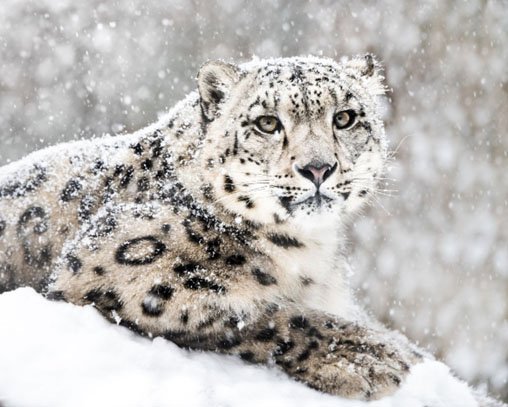 It is native to the mountain ranges of Central and South Asia.
It inhabits alpine and subalpine zones at elevations of 3,000–4,500 m (9,800–14,800 ft), ranging from eastern Afghanistan, the Himalayas and the Tibetan Plateau to southern Siberia, Mongolia and Western China.
In the northern part of its range, it also lives at lower elevations.
The snow leopard's fur is whitish to grey with black spots on head and neck, with larger rosettes on the back, flanks and bushy tail.
The belly is whitish. Its eyes are pale green or grey in color. Its muzzle is short and its forehead domed. Its nasal cavities are large.
The snow leopard shows several adaptations for living in a cold, mountainous environment.
Its small rounded ears help to minimize heat loss.
Conservation status :
IUCN : Vulnerable
WPA, 1972 : Schedule I
CITES : Appendix I
Syllabus : Prelims; Environment