WEB 3.0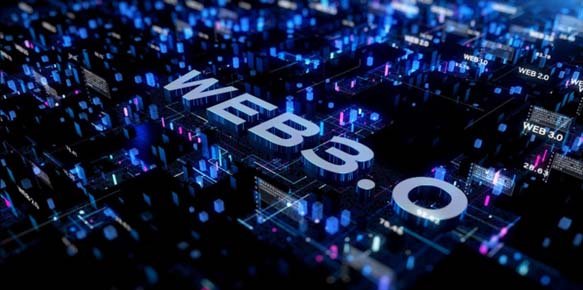 WHAT IS WEB3 TECHNOLOGY ?
Web 3.0 is the next break in the evolution of the Internet, allowing it to understand data in a human-like manner.
The Web 3.0 leverages AI, Machine Learning and blockchain technology. It is expected to achieve real-world communication.
It will use AI technology, Machine Learning, and Blockchain to provide users with smart applications.
This will enable the intelligent creation and distribution of highly tailored content to every internet user.
MORE ABOUT THE NEWS
Web3 products and services are capable of providing digital solutions to real-world problems across multiple sectors – be it healthcare, public administration, law and order, entertainment, education.
Web3 refers to a group of technologies including blockchain, virtual digital assets including NFTs, DeFi etc.
The applications of this transformative technology are growing in popularity in India.
According to a report on Web3 by KMPG, India ranks fifth worldwide in terms of consumer interest in blockchain- based products and services, after the United States, Indonesia, Japan and the Philippines.
APPLICATIONS OF WEB 3 TECHNOLOGY
HEALTHCARE :
Modern healthcare facilities operating under Web 2.0 have become data centres that control and monetise patient information. A prospect that gives rise to serious ethical concerns.
A decentralised patient information system under Web3 redirects the focus towards patients as central to the healthcare system and not merely a source of revenue.
Web3 has the potential of providing seamless virtual assistance to patients who may not otherwise be able to access quality healthcare.
LAND RECORDS:
The Government of India 2016 launched the Digital India Land Records Modernisation Programme (DILRMP).
It is an ambitious project aimed at digitising India's 800 million parcels of land, whereby each parcel of land is surveyed and assigned a Unique Land Parcel Identification Number (ULPIN).
Poorly kept land records have translated into millions of land disputes before the courts of India.
Web3 solutions could go a long way in tackling this monumental problem.
IT SERVICES:
India's world-famous IT sector is also making inroads into the metaverse, with companies like Tech Mahindra throwing their hat into the ring.
Tech Mahindra is exploring use cases such as car dealerships, gaming centres, NFT marketplaces, and virtual banks and intends to provide an immersive metaverse experience for its customers.
LAW ENFORCEMENT
A most interesting new use case that has emerged recently is the use of DLT by crime investigation units in New Delhi.
Officials are adopting blockchain in Delhi's Forensic Science Laboratory (FSL) for failsafe recording and storage of evidence obtained from crime scenes.
EDUCATION:
Web3 and the metaverse are expected to impact the world of education and learning in a big way, through virtual campuses and 'gamified' learning experiences where students can unlock new chapters and earn points.
There are many use cases for the Metaverse in learning, such as virtual labs, exam simulations, practical skill set training, and so on.
In India, Mahindra University has collaborated with Tech Mahindra to establish a 'Makers lab' to facilitate development in the metaverse.
DISADVANTAGES OF WEB 3
Web 3.0 technology is more intelligent, efficient, and accessible than in previous generations. However, the technology isn't quite ready for general use.
With easier access to a user's information and reduced privacy thanks to web 3.0, reputation management will be more important than ever.
Any websites built on web 1.0 technology will become obsolete once web 3.0 is fully implemented on the Internet.
WAY FORWARD
The motive behind web 3.0 is to make searches swifter, easier and more efficient to process even complex search sentences in no time.
It will help disintermediate businesses, remove rent-seeking intermediaries, and give this value directly to the customers and providers in a network.
SOURCE: The Daily Pioneer
Syllabus : MAINS, GS3, SCIENCE&TECHNOLOGY