World Wildlife Day 2023 : Why this day and the underlying CITES agreement are significant
Context- March 3 is known as World Wildlife Day (WWD), marked annually to draw attention to issues of conservation of flora and fauna. The WWD site states, "This year, the theme is 'Partnerships for Wildlife Conservation'. It will allow us to celebrate all conservation efforts, from intergovernmental to local scale."
It is further expanded into the conservation of marine life and oceans, and on collaborating with businesses and funding conservation activities.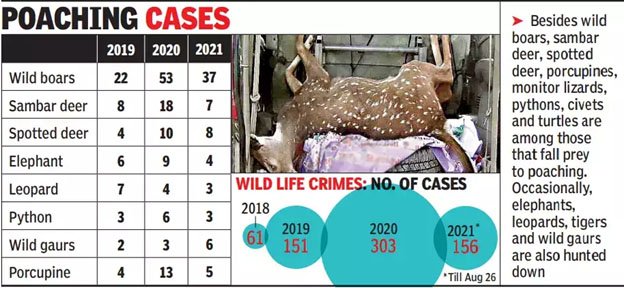 (Credits- Times of India)
Why is World Wildlife Day marked?
In 2013, the United Nations General Assembly (UNGA) proclaimed March 3 as the UN World Wildlife Day to celebrate and raise awareness of protecting the world's wild animals and plants. This was as the Convention on International Trade in Endangered Species of Wild Fauna and Flora (CITES) was signed in 1973 on this day.
March 3 marks the 50th anniversary of CITES' establishment. CITES is considered a landmark agreement on conservation that focuses on ensuring the sustainability of endangered species.
What is the CITES?
CITES is an international agreement between governments. Its aim is to ensure that international trade in specimens of wild animals and plants does not threaten the survival of the species.
Its website states it was agreed upon with the recognition that "The trade in wild animals and plants crosses borders between countries, the effort to regulate it requires international cooperation to safeguard certain species from over-exploitation."
It accords varying degrees of protection to more than 37,000 species of animals and plants, ranging from live animals and plants to wildlife products derived from them, including food products, exotic leather goods, medicines, etc.
Currently, there are 184 parties to the convention, including India. The CITES Secretariat is administered by UNEP (The United Nations Environment Programme) and is located in Geneva, Switzerland. The Conference of the Parties to CITES is the supreme consensus-based decision-making body of the Convention and comprises all its parties.
In India, apart from the Union Ministery of Environment, Forests and Climate Change, the Wildlife Crime Control Bureau is a statutory body under the Ministry that is especially meant to combat organised wildlife crime in the country.
How does CITES work?
The species covered under CITES are listed in three Appendices, according to the degree of protection they need.
Appendix I includes species threatened with extinction. Trade in specimens of these species is permitted rarely, only in "exceptional circumstances", such as gorillas, and lions from India.
Appendix II includes species not necessarily threatened with extinction, but in which trade must be controlled to ensure their survival. For example, certain kinds of foxes and Hippopotamuses.
Appendix III contains species that are protected in at least one country, which has asked other CITES Parties for assistance in controlling the trade, like the Bengal fox or the Golden Jackal from India. Different procedures are given category-wise to engage in the trade of species in each of the lists.
Why is CITES criticized?
One argument says having wildlife allowed to be traded further legitimizes their movement and increases the possibility of their illegal trade.
Nation Geographic referred to a 2019 analysis in the journal Science that found in nearly two-thirds of cases, CITES protections lag after a species is determined to be threatened by international trade. "For example, while pangolins were finally added to Appendix I in 2017, an estimated million were trafficked between 2000 and 2013", it says.
Also, many animals that are in the wildlife trade are not protected by CITES. "If a party violates the convention, CITES can respond with sanctions, which prevent a country from trading in CITES-listed species. But countries are rarely sanctioned and the process can become highly politicized.
Conclusion- Issues of international conventions not going far enough to enforce their mandate are common in agreements of such a scale, given the number of parties involved. However, there is at least a level of commitment that ensures some common ground as a first step.
Source- Indian Express
NEWS- World Wildlife Day 2023 : Why this day and the underlying CITES agreement are significant
Syllabus- GS-3; Environment